VietNamNet Bridge – After authorities recently began a crackdown on overloading of trucks, the popularity of waterway transportation has surged in the Mekong Delta thanks to its network of rivers and canals, but a lack of entrepots threatens to stymie development.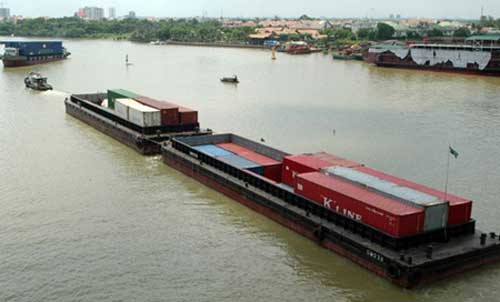 Goods carried by cargo platforms depart HCM City for eastern and western provinces. The lack of ports and entrepots in the Mekong Delta is stifling the opportunity to transport goods via the country's waterways. 
Can Tho-based Gentraco Joint Stock company transports large volumes of goods by water, carrying 15,000 tonnes of rice from Thot Not District in Can Tho City to HCM City every month.
"The time it takes is around 24 hours, slower than by road, but in case of large quantities the cost is just a third of that of road transport," Tran Thanh Van, deputy director of the company, was quoted as saying in Tuoi Tre (Youth) newspaper. It costs VND300,000 to transport a tonne of rice by road, and only VND100,000 by waterway.
Since Thot Not has plenty of 200-1,000 tonne ships and barges, not only local firms but also those in neighbouring provinces like An Giang and Dong Thap use the district as an entrepot to transport goods to HCM City.
Minh Hoa 2 Limited used to send goods solely by road, but now, with the cost becoming too high, it has resorted to waterway transport.
It transports an average of 5,000 tonnes of animal feed each month from Tien Giang and Ben Tre to Can Tho.
"There is no other choice for companies when road transport costs increase sharply, and waterway transport will significantly develop soon," Phan Thanh Tien, director of the Can Tho port Limited company, which manages the Cai Cui and Hoang Dieu ports, predicted.
The number of companies signing deals with his company to transport goods has increased sharply, with many of them using water transport for the first time, he said.
"The biggest advantage of water transport is that it costs only 25-30 per cent of that of road transport."
From the two ports, barges with 24- and 36-container capacity leave non-stop for HCM City.
If demand increases, the company might switch to 148- and 300-container barges.
"Prices might go down if we carry huge quantities of goods," Tien added.
The company is also installing a giant crane system to become a container entrepot for the whole Mekong Delta region and even the Cambodian capital Phnom Penh.
Since task forces were set up to check overloading on trucks, road transport has also become much slower.
"Waterway transport is the best option now despite the time it takes, but we can carry large quantities at little cost," Nguyen Thanh Mai, an agricultural-produce trader near the Tinh Bien border gate, said.
But the severe lack of ports and entrepots in the delta somewhat nullifies the advantages offered by its waterways. This is the reason why only agricultural produce has been transported by water for a long time now.
"To boost waterway transportation, provinces must invest in port and entrepot systems," Nguyen Thanh Tam, director of An Giang Province's Department of Transport, said.
Source: VNS