VietNamNet Bridge - Around 2,000 workers at two factories in Hoang Long Industrial Zone in Thanh Hoa City, owned by a Taiwanese company, suffered neurotoxic syndrome on May 15 and May 19 because of the high level of organic solvents in the factories.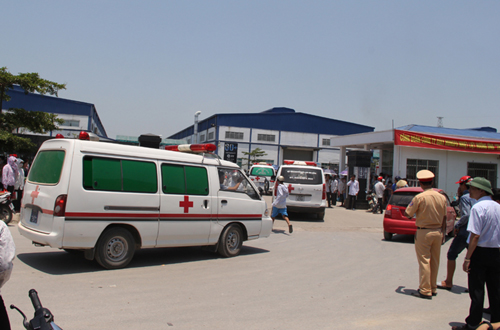 Ambulances at Hongfu Shoes Company on May 15.

Mr. Le Huu Uyen, from the Health Department of Thanh Hoa Province, said that the workers of the Hongfu Shoe Company and Hong My Company (subsidiaries of the Taiwan-owned Hongfu Vietnam Group) were sent to hospitals in May with neurotoxic syndrome. Uyen said that symptoms had occurred because of the high amount of organic solvents present at the factories.
Specialists inspected the working environment at the two factories and found that the air circulation systems in these factories were not good enough to ensure safe labor conditions for thousands of workers.
They also found solvents like hydrocarbon, ethyl acetate and N-propyl acetate in glues and liquid cleaners at the factories. These chemicals are liquid and volatile at room temperature. They are very volatile at high temperatures.
The chemicals have distinct aromas, and easily irritate the eyes, nose and throat. They can cause dizziness, headache, nausea, fatigue, coughing and shortness of breath for humans through the respiratory system.
Experts said that perhaps these were the causes of the poisoning cases in May.
Uyen also said that specialists did not discover toxins or micro-organisms in the samples of drinking water, dirt and vomit samples taken at the scene.
"Experts are analyzing the dust samples to determine the final cause," said Uyen.
The authorities of Thanh Hoa Province have asked the Hongfu Group to clean its factories and install more air filters and air circulation equipment to ensure a safe working environment.
On the morning of May 15, nearly 800 workers at the Hongfu Shoe Company had symptoms of dizziness, vertigo, foaming, vomiting and fainting. They were taken to several local hospitals. Four days later, the workers were back to work and over 1,000 people continued vomiting and fainting. A total of more than 2,000 workers were affected by the incidents.
The Hongfu Group is a 100% Taiwan-owned group that began operations in 2011. In Thanh Hoa, Hongfu employs nearly 30,000 workers, including about 8,000 people at the Hongfu Shoe Company. In 2011, about 300 employees of the company suffered food poisoning after lunch.
Le Ha