VietNamNet Bridge - "China has acted unilaterally. They've acted like uninvited guests who enter your home, plop themselves down on the sofa, and when you start raising objections, accuse you of unfriendliness. This is unacceptable," said Sicard, a Frenchman.
On May 24, about 200 Vietnamese marched in the city of Grenoble, in southeastern France, to protest China's deployment of its drilling rig in Vietnam's waters. The protest attracted not only students and expatriates who have lived for many years in France, but also many local and international friends. Some local organizations, such as the French Trade Union, the French Students' Association in Grenoble (UNEF) and the Union of Human Rights (LDH) sent representatives to the demonstration to show their support for Vietnam. Correspondents of many French newspapers, like Dauphiné Libere and France 3, also reported the event. Photo: AEVG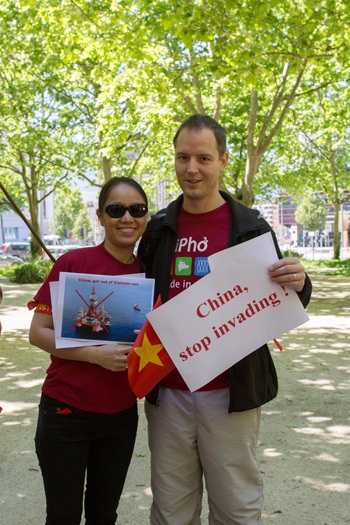 The demonstrators walked from Paul Mistral Park to major streets and stopped at Victor Hugo Square. Banners proclaiming "China, respect international law!"; "We want peace" and "China, stop invading!" were raised up with similar slogans chanted by both Vietnamese and foreigners in multiple languages – Vietnamese, French, English, and even Chinese. Photo: AEVG
Interview with Mr. Sicard, a French participation in the demonstration.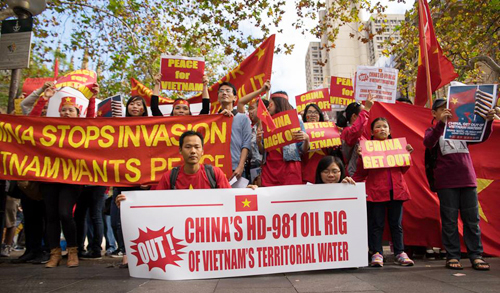 On May 25, about 300 students, Vietnamese expatriates and international friends held peaceful demonstrations to protest China's acts and to call for peace in the East Sea at the city hall of Sydney, Australia. The participants wore T-shirts with the Vietnamese flag and raised banners in Vietnamese and English demanding that China withdraw its rig from Vietnam's waters. They also sang songs of patriotism and love of peace. Photo: Bui Viet Ha.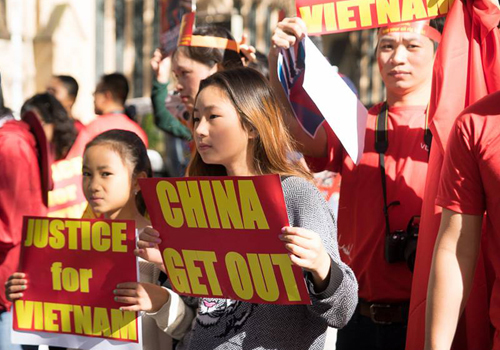 The meeting representatives said that to receive support from other countries and prove that Vietnam is not alone in any war, Vietnamese should try to bring the truth out to the world as much as possible.
Before the demonstration, Vietnamese students in Sydney issued a statement opposing China's acts and called on the world community to raise its voice against China's illegal acts. Photo Bui Viet Ha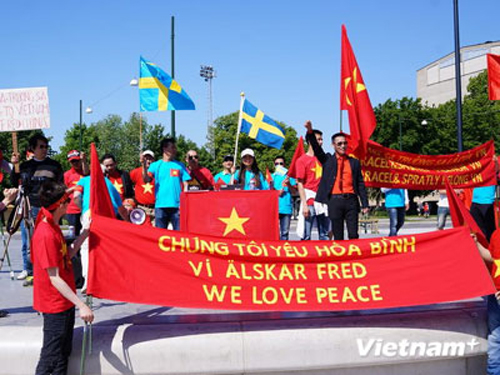 The community of Vietnamese in Sweden grouped up at the Triangeln Square in downtown Malmo in southern Sweden, to march against China's actions. Representatives of the Communist Party of Sweden in Malmo also participated in the event. At the end of the demonstration, organizers collected signatures of Vietnamese people and local residents to send with a petition to the Government, the Swedish Foreign Ministry and the European Union to protest China.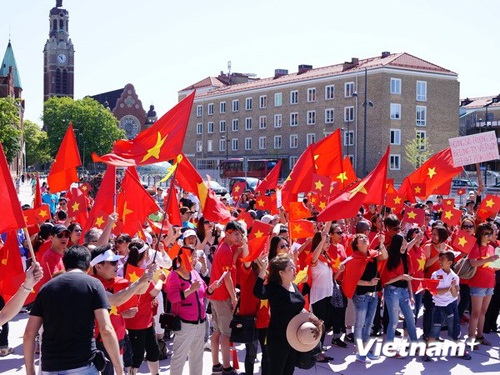 That same day, Vietnamese people in Malaysia gathered outside the Chinese Embassy in Kuala Lumpur to protest China's acts. They gave a protest letter to the Chinese Embassy. Photo: Vietnam +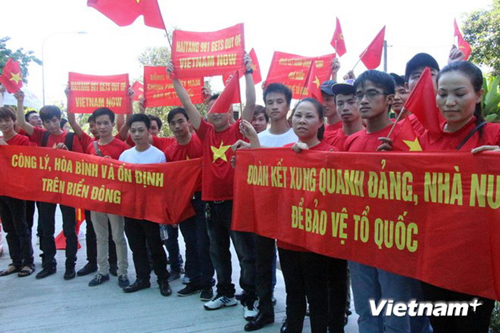 Around 200 Vietnamese and those who support Vietnam also marched to protest China in Hong Kong on Sunday. "The whole world knows that China is encroaching on the waters of our sovereignty. We come here today because we hope that China will withdraw from Vietnam's waters. We do not want war," said Mo Pak-fung, a Vietnamese native who has lived in Hong Kong for 25 years. Photo: South China Morning Post.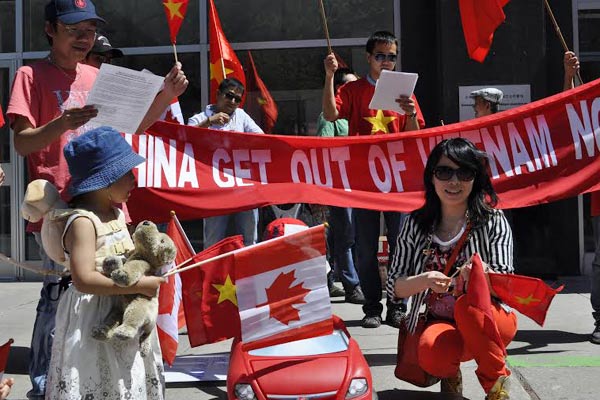 More than 200 Vietnamese people in Montreal, Canada on Sunday demonstrated against China's illegal acts.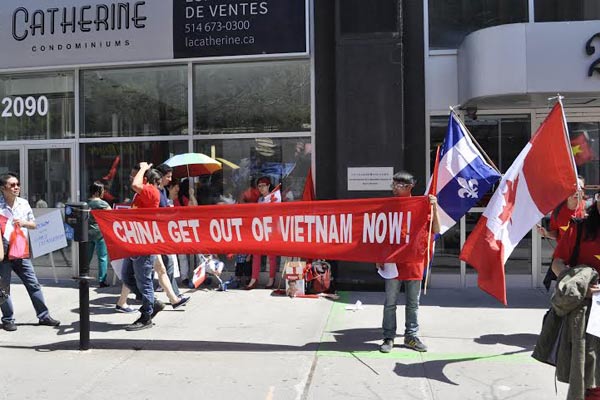 A demonstration will be held in Ottawa on May 31.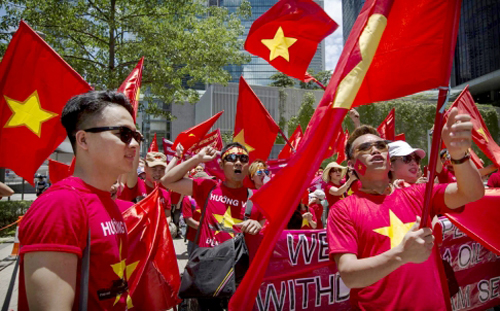 In a statement released Sunday, the Vietnamese Students Association in New South Wales, Australia said China's aggressive manoeuvres pose a serious threat to regional peace and stability, the safety and freedom of navigation in the sea, undermine the friendship between Vietnamese and Chinese peoples, and directly challenge Vietnamese national security.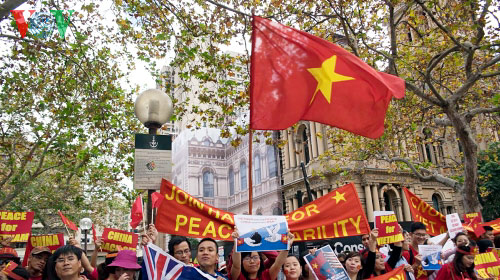 They strongly protested against China's brutal violation of Vietnam's sovereign rights and jurisdiction over its lawful exclusive economic zone and continental shelf. They demanded that China immediately and unconditionally withdraw its oil rig and escort vessels from Vietnam's waters. They also voiced support for the Vietnamese government's efforts to resolve and manage the disputes in a peaceful manner and to take necessary measures to protect the country's legitimate rights and interests.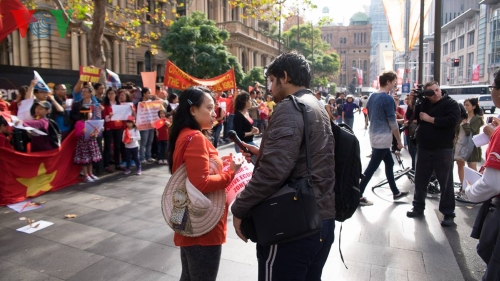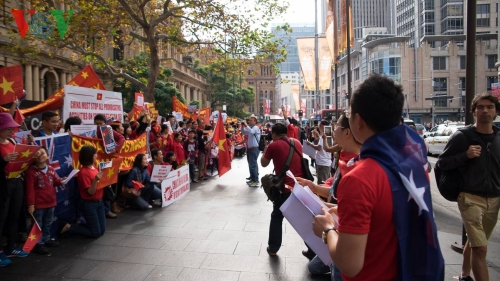 The association called on peace and justice loving people in China and all over the world to voice their concern about China's illegal and dangerous actions, and to support endeavours towards justice, peace, stability, and cooperation in the East Sea. 
More protest around the world against China's act in East Sea
The ambassadors of many countries to Belgium have shared the view that China's installation of its oil rig Haiyang Shiyou - 981 in Vietnam's continental shelf and exclusive economic zone is a wrongful act which should be condemned.
The ambassadors of Japan, Lebanon, France, Germany, Italy, Switzerland, Monaco, Norway, Brazil, Uruguay, Morocco, Malawi and the Vatican expressed the view at a meeting at the Vietnamese Embassy on May 26.
At the meeting, Vietnamese Ambassador Pham Sanh Chau gave a full account of China's violations and follow-up response by Vietnam and the world community. He affirmed that China's act runs counter to the 1982 United Nations Convention on the Law of the Sea and the Declaration on the Conduct of Parties in the East Sea, seriously threatening peace, maritime security and safety in the region.
The same day, the Vietnam Mission to the EU also sent a diplomatic note and press release to EU bodies, including the European Council, the European Commission, the European Parliament, the European External Action Service (EEAS), the missions of EU member countries and the diplomatic corps as well as research institutes and foreign press in Brussels to inform them about China's serious violation of Vietnam's exclusive economic zone.
Meanwhile in France, more activities to protest against China's act in the East Sea took place in recent days.
In Grenoble city, over 200 Vietnamese, including students, marched peacefully through main streets and gathered in Victor Hugo square in the downtown on May 24.
They waved banners written in Vietnamese, English, French and Chinese languages, requesting China to end its illegal presence in Vietnam's waters. Many French and foreign friends also expressed their support to Vietnam by joining the rally.
A seminar on the East Sea situation was held in Lyon on May 25, at which Vietnamese residents and French fellows watched videos recording China's attacks on Vietnamese coast guard ships, and heard foreign scholars' opinions on the East Sea situation.
Also on May 25, Chairman of the Association of Korean People Loving Vietnam (VESAMO) in the Republic of Korea, Park Kwang-joo condemned China's unilateral move in the East Sea and described it as worrisome.
Addressing a Korean language contest held in Ulsan city, Park noted that the Hoang Sa archipelago belonged to Vietnam before China unilaterally used armed forces to occupy the islands on January 19, 1974.
He said China's placement of its oil rig in Vietnam's exclusive economic zone and continental shelf seriously violates Vietnam's sovereignty.
On May 2, China stationed the Haiyang Shiyou-981 oil rig at 15 degrees 29 minutes 58 seconds north latitude and 111 degrees 12 minutes 06 seconds east longitude. The location is 80 nautical miles deep inside Vietnam's exclusive economic zone and 119 nautical miles to Vietnam's Ly Son Island.
Besides, it has deployed a large number of ships of various kinds to the area, including military, coast guard, marine surveillance, marine patrol and fisheries administration ships.
Chinese ships have repeatedly rammed and fired water cannons into Vietnamese coast guard and fisheries surveillance ships which are carrying out their law enforcement missions in the country's waters, leaving many Vietnamese ships damaged and many fisheries surveillance officers injured.
VNE/VNA/VOV