VietNamNet Bridge - For the first time, the police of Binh Duong Province have found themselves handling a case with hundreds of suspects, who are expected to be put on trial as soon as possible.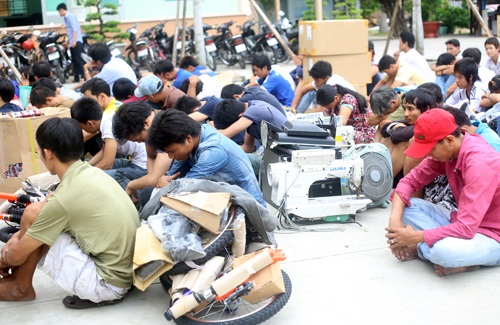 Over 100 of people were arrested for theft.

On Thursday, Binh Duong police prosecuted 259 people and imposed administrative sanctions on 276 others, in relation to the riots at the province's industrial zones. In addition, hundreds of others are still in custody to serve in the investigation.
Among those arrested, the investigating agencies identified 397 people as having committed acts of public disorder and resisting officers on duty; over 100 who are suspected of theft; 47 who committed acts of property damage; 374 suspected of property appropriation; 10 suspected of consumption of illegal property; and six on charges of robbery.
Major General Vo Thanh Duc, Director of Binh Duong's police agency, praised the functional units' work in their efforts to stabilize the situation and to quickly investigate the cases.
On May 13, about 19,000 workers participated in a march protesting China's illegal acts in Binh Duong's exclusive economic zone. At first the march took place peacefully but some people then agitated workers to destroy and steal the assets of dozens of factories.
In order to quickly stabilize the situation and restore order, the Ministry of Public Security sent hundreds of mobile policemen to Binh Duong. With the assistance of the police forces from 11 other provinces, the investigation of the riots has been completed quickly, to help affected businesses reinstate their operations.
Colonel Nguyen Hoang Thao, deputy police chief of Binh Duong, said that investigating the cases and promptly sending them to trial is the priority of the local agencies.
Thu Lan