VietNamNet Bridge – After a mass poisoning on May 15 that sent over 700 workers to the hospital, hundreds of workers of the Taiwan-invested Hongfu Group were again hospitalized on Monday with poisoning symptoms.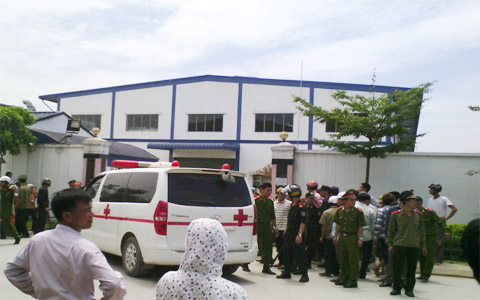 Over 15,000 workers of the three shoes factories of Hongfu, Hong My 1 and Hong My 2 of the Hongfu Group, returned to their jobs Monday after three days off due the poisoning last Thursday. Mr. Nguyen Dinh Xung, Vice Chairman of Thanh Hoa Province, along with officials of the local Department of Health, Department of Labor, War Invalids and Social Affairs and Department of Public Security, paid a visit to the factory to encourage the workers.
At around 9:30 am, a number of workers in the three factories began to show signs of poisoning such as dizziness, vomiting and fainting. The number of cases increased quickly, causing panic. Factory managers had to permit the staff to stop working and asked for emergency help from the local health sector.
"Several hours after we began the morning shift, many female workers felt weak, lightheaded and dizzy, and fainted," said a worker named Le Thi Tam, who said that amid fears of the safety of the drinking water at the factory, many people had brought water from home. However, although they did not drink water or eat anything at the factory, they still showed signs of poisoning.
By noon on Monday, Hop Luc Hospital had received more than 200 patients. Other hospitals like Hoang Hoa, Thanh Ha and Ham Rong were also asked to be ready to treat patients unconditionally.
Mr. Le Huu Uyen, from the Health Department of Thanh Hoa Province, said the patients had similar symptoms as those in the first poisoning case on May 15, and that an accurate number of patients had not yet been established.
A spokesman of Thanh Hoa Department of Health said the air in the factories might be not safe. That, combined with hot weather, could have caused this situation.
The Thanh Hoa Police Agency has sent hundreds of officers to the factories to stabilize the situation and encourage workers to keep calm.
According to test results of the first poisoning case on May 15, of the biochemical indices of water and vomit samples, air and dust in the Hongfu factories were in the safe levels.
Dr Lam Quoc Hung, Head of the Food Poisoning Monitoring Division of the Food Safety Bureau under the Ministry of Health, said the workers had symptoms of neurotoxicity. Local authorities have requested that Hongfu Group clean the factories.
"During the investigation, we also found a number of people affected by mass psychology," Dr. Hung added.
The Hongfu Group is a 100% Taiwan-owned company that began operations in 2011. In Thanh Hoa, Hongfu employs nearly 30,000 workers, including about 8,000 people at the Hongfu Shoe Company. In 2011, about 300 employees of this company were poisoned after lunch.
Le Ha
Related news:
Over 730 workers poisoned in Thanh Hoa: Official