VietNamNet Bridge – The National Institute of Haematology and Blood Transfusion has announced a significant clinical milestone with its 100th successful stem cell transplant, since its first victorious attempt on June 2006.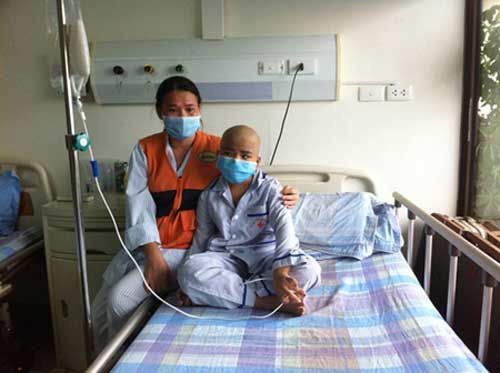 Nine-year old Tran Ngoc Anh is the 100th person to receive a successful stem cell transplant at the National Institute of Haematology and Blood Transfusion in Ha Noi.
Tran Ngoc Anh, a 9-year-old boy from the Hung Yen Province, who was diagnosed with aplastic anaemia early this year, is the 100th patient who received the transplant by the institute in March. His life was saved thanks to the stem cells from the spinal cord donated by his 6-year-old sister.
"Stem cell transplant has been seen as one of the key methods for treating patients with fatal blood cancers," stated the institute's Director Nguyen Anh Tri.
"We are encouraging mothers to donating cord blood to our community cord blood stem cell bank as sources of stem cell for treating blood cancer in the future," remarked Tri.
According to Tri stem cell transplant in Viet Nam costs around VND200 million (US$10,000) for an autologous type and around VND600 million (US$30,000) for allogeneic transplantation, in which one-half of the treatment cost had been covered by the health insurance fund. A stem cell transplant costs at least US$100,000 in Singapore.
The director emphasised that the institute would focus on activities to improve transplant techniques, the cord blood bank, and offer stem cell transplant to more children and elderly people in the coming time.
According to the institute, stem cell transplant is of two types: autologous and allogeneic. The technique is used for treating patients with blood cancers, such as aplastic anaemia, the cancer of the white blood cells known as Chronic Myelogenous Leukaemia (CML) and Acute Myeloid Leukaemia (AML).
According to statistics revealed by the health ministry, a total 270 stem cell transplants have been successfully carried out in the country, including 170 performed by the HCM City Haematology and Blood Transfusion.
Source: VNS