VietNamNet Bridge – While some scientists have urged the government to begin carrying out the archaeology activities in East Sea, others say this is an impossible mission now under Vietnam's conditions.
Why Vietnam keeps hesitant?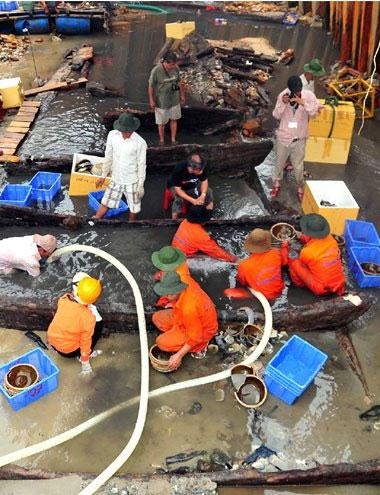 Do Thai Binh, a shipbuilding engineer from the HCM City Marine Science & Technology Association, expressed his concern over the Chinese announcement on conducting underwater archaeology activities in the territorial waters around the Hoang Sa archipelago.
Binh said that it is now the right for Vietnam to pay more attention to the underwater archaeology.
Only in 2009, did the Vietnam Archaeology Institute conduct the first research activities, which laid the foundation for the Vietnam's underwater archaeology.
However, four years later, in 2013, Dr. Tong Trung Tin, Head of the institute still said that Vietnam had nothing for its underwater archaeology – no workforce, no money and no technical facilities.
It is clear that Vietnam has not paid appropriate attention to the underwater archaeology, though, as Tin said, this is a new but potential and very attractive field.
In 2012, when exploring a small area of 20 kilometers at the Van Don trade port in Quang Ninh province, the explorers discovered tens of suspected positions of wrecked ships.
When asked why Vietnam has been slow in conducting ocean archaeology, Prof Dr. Dinh Van Uu from the Hanoi University of Natural Resources, said Vietnam needs modern facilities to investigate the ocean. Meanwhile, Vietnam is not rich enough to spend money on the facilities and the exploration.
Sharing the same view, Dr. Vo Luong Hong Phuoc, Lecturer of the HCM City University of Natural Resources, said it is very costly to organize an underwater archaeological trip, which goes beyond Vietnam's capacity.
Uu stressed that Vietnamese should not get impatient when hearing about the Chinese exploration activities.
"It is a blunder to think that the things which can be done by others will also be done by us," Uu said, adding that even if Vietnam has money, it still would not do this because of the technical problems.
Stop complaining and pleading poverty
While some scientists believe that conducting underwater archaeology activities is impossible, Binh believes that Vietnam can absolutely begin the activities now.
"What does Vietnam still need to wait for to start the underwater archaeology?" Binh questioned.
"I don't think we need to have submersible right now. If scientists really want to make exploration, they can use the rescuers' ships and dive at the depth of tens of meters under the water," he commented.
"What we need now is the strong determination," he added.
"I think that even if the State spends money on a ship to serve the archaeology activities, the ship would be left idle. I believe that there is no ship which can undertake all kinds of works," he said.
Also according to Binh, a Singaporean company brought to Vietship, an annual exhibition, some diving equipments. These are believed to be very modern and complicated equipment, but Binh is sure that they can be made in Vietnam.
Nguyen Tac An, a scientist, also commented that it would be too late if Vietnam still keeps… waiting.
Dat Viet