VietNamNet Bridge - Mr. Nguyen Quoc Hoa, the boss of a print company in Thai Binh province, has stated to have successfully test his submarine, named Truong Sa (Spratly Islands).
Vietnam entrepreneur to test his submarine next week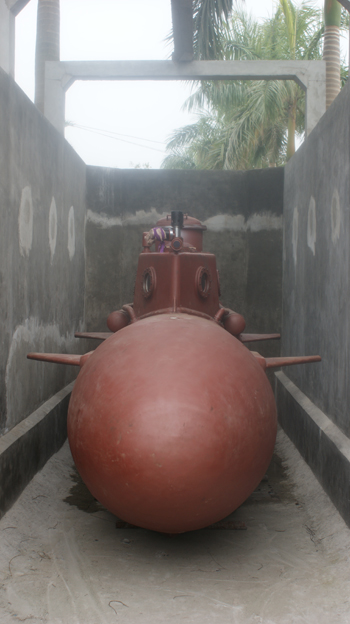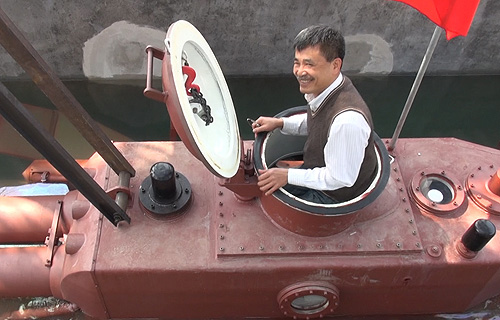 Hoa and his submarine.
After being tested in a tank dozens of times, the mini submarine named Truong Sa is now able to dive well and keep a balance in the tank, Hoa said.
"Now the ship is ready to run anywhere," he asserted confidently.
According to Hoa, the most difficult thing is keeping the ship in the water tank because "the tank is too narrow, I was afraid that the ship could break the tank."
After overcoming several technical flaws, the mini submarine was fixed in the tank and it could float and dive. To achieve such results, Hoa made dozens of tests and tried to fix errors during the past several weeks.
On January 23, he and his colleagues tested the submarine again and the result was positive. "The AIP system worked well and this suggests that the submarine was successfully tested," said Hoa.
The businessman said after the Lunar New Year he would continue the test to improve both technical features and the outlook of the ship. "Testing in the tank is very different from reality, so I want to prepare more carefully and take it out to the ocean for trial," said Hoa.
Hoa began the test on January 6, in a tank designed by himself with a depth of 4.5 m, a length of 10 m and the width of 3.7 m.
The submarine has a length of 9 m, a height of 3 m, equipped with two 90 Hp diesel engines, operated by an air-independent propulsion system (AIP). Maximum design speed is 40 km/h, 800 km radius of operation, dive time of 15 hours, and maximum diving depth of 50 m.
Son Tung