VietNamNet Bridge – A young entrepreneur from the Mekong Delta is helping local rice farmers save money and save the environment with the use of his bio-technology innovations and a sustainable approach to mushroom production.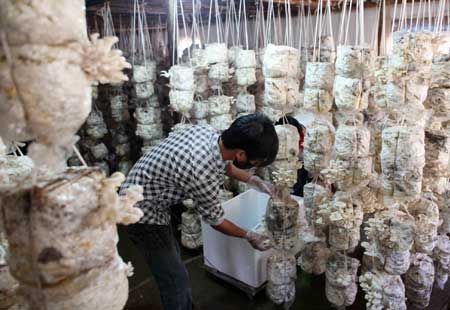 Growing business: As well as helping rice farmers, Luan's enterprise produces about 10-20 tonnes of oyster and reishi mushrooms each month.
Nguyen Hoang Luan, together with his friend Vo Van Quoc Que has created a new kind of micro-organism fertiliser called "Ba Sieu", - or the "Three Supers" - which has become a popular alternative to chemical fertilisers for farmers in the Delta.
As its name suggests it has three actions: plant growth, disease prevention and financial savings for farmers.
"As a child born and raised in a land where most people live on agriculture, I kept pondering how to improve farmers' income and what kind of technology could help them," Luan said.
He said he realised that applying new biological technology to farming was the only way to solve his childhood enquiries.
Luan explained that the "Three Supers" micro-organism fertiliser is in the form of liquid spray which is applied to the sprouting rice seeds several hours before they are sown.
"The fertiliser is a biological solution assembling three kinds of useful native bacteria to support the development of the rice. One of which synthesises a natural nitrogen found in rice, the other turns natural nitrogen into dissolved phosphorus that are easy to absorb, and the last imitates elements of growth stimulation," he said.
He said the fertiliser has shown that it can meet the output demands of modern agriculture while reducing the use of agro-chemicals.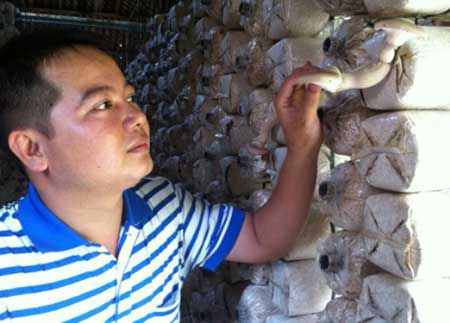 Eyes on the prize: Nguyen Hoang Luan checks the oyster mushroom spores. 
According to Luan, once the fertiliser has been applied to a crop the yield increases by 10-20 per cent, while the amount of chemical fertiliser decreases by up to 30 per cent.
"In addition, it is very cheap: it takes only VND 30,000 (US$ 1.50) to treat an area of 1,000sq.m under crop. Therefore, it helps to both reduce the expense of growing rice and it is safe for both humans and environment," he added.
Thanks to its effectiveness, the "Three Supers" fertiliser was recognised as a new kind of fertiliser by the Ministry of Agriculture and Rural Development in early 2013.
Since the middle of this year, it has been distributed nationwide. Currently, about 3,000-5000 litres of "Three Supers" are used monthly.
Luan was born in 1984 and graduated from Can Tho University in 2007 and majored in biological technology. After that, he worked for a foreign business for three years and then spent another year operating a business selling cattle-feed.
"Those four years of working offered me a lot of useful experiences," Luan said.
Coincidentally, a former friend of his, Vo Van Quoc Que, who was then working for the Institute of Biological Technology of Can Tho University, was conducting research on a special kind of micro-organism.
The two young men, who shared the same passion, agreed to cooperate and establish ACI Group, which focused on producing micro-organism fertiliser and high-quality mushrooms.
When Que left university to become the director of Sieu Phan Bon Limited Company (a subsidiary of ACI Group), Luan worked as the CEO for ACI group, of which he owns 85 per cent of the capital.
In 2012, Luan established an enterprise producing mushrooms. This enterprise located on a block covering nearly two-hectares in Can Tho City is the largest centre producing mushrooms in the Mekong Delta.
To improve production Luan saw the advantage in using locally sourced materials as a growing medium rather than growing the fungi on sawdust from rubberwood imported from the southeast. This breakthrough dramatically reduced the cost of production.
Each season, over 5,000 mushroom spores put down roots in bedding made from straw and other by-products from the abundant natural materials found within the area.
The result is 10-20 tonnes of oyster and reishi mushrooms being produced each month.
He continues to study new ways to apply innovative technology to agricultural production in order to enrich the prosperity of his hometown.
Despite the usual business challenges that lay ahead, young bio-engineer and entrepreneur Luan remains optimistic, his determination unlikely to be dampened anytime soon.
Source: VNS