VietNamNet Bridge – Vietnamese scientists have discovered a new species of Phallus mushrooms in the Bidoup - Nui Ba National Park in the central highland province of Lam Dong.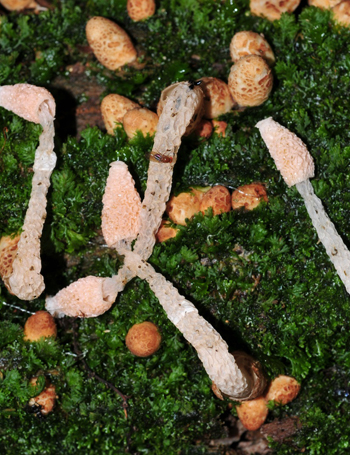 In the framework of a project under the Highlands 3 program at the Bidoup - Nui Ba National Park in Lam Dong province, a research team of the Southern Institute of Ecology (SIE) has found Dreswe fungus species, with scientific name as Phallus drewesii Desjardin & BA Perry.
Phallus drewesii is a species of stinkhorn mushroom endemic to São Tomé that was first described in 2009. It can be distinguished from the other 28 stinkhorn mushrooms in the Phallus genus by its small size, white net-like stem, brown spore-covered head and by its stem curving down instead of up. The species was named after Robert Drewes, Curator of Herpetology at the California Academy of Sciences.
According to information on the website of the Southern Institute of Ecology, this is the first time this species of mushroom discovered in Asia and this is the 5th species of the genus Phallus in Vietnam.
This species is 0.3 to 1.5 cm high, 0.3 to 0.8 cm in diameter. It usually grows on deadwood and very rare.
The finding is published on the Mycosphere mycology journal.
Na Son