VietNamNet Bridge - Scientists have recently published a new species of white-head viper found in Vietnam, which can cause death in a short time.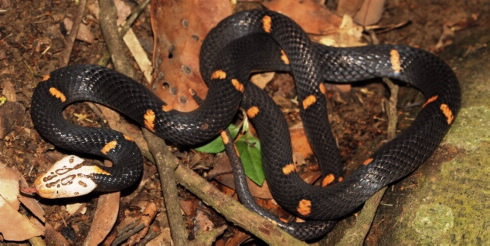 Azemiops kharini viper. Photo: Nguyen Thien Tao.
A group of scientists from the Vietnam Museum of Nature and the St. Petersburg Animals Institute of Russia have discovered a new species of white-head viper and published their finding on the Russian Journal of Herpetology.
Dr. Nguyen Thien Tao, a team member said that specimens of the new species of poisonous snake were collected in Cao Bang, Lang Son and Vinh Phuc, at altitudes from 800 to 1,800 m.
The new species is named after the Russian scientist Vladimir Kharin in order to honor his contribution in the field of the study of reptiles and fish in Asia
The white-head Azemiops kharini viper has the white head with two black stripes. Their body length is about 760 to 980 mm.
This is the second white-head viper species and the 60th species of poisonous snake of the total of over 210 species of snakes in Vietnam so far.
Na Son