VietNamNet Bridge - A group of rare salamanders (Echinotriton asperrimus) living at an altitude of 700 m has been discovered by a survey team in the primary forest of Hem Mountain in Phu Tho province.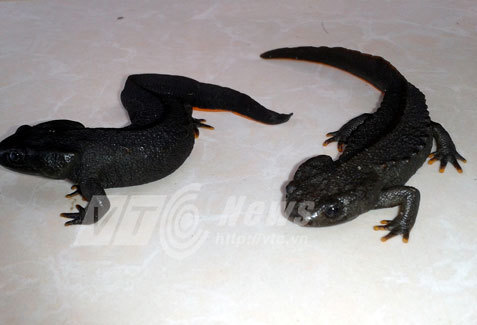 Mr. Tran Dang Lau, Deputy Director of the Forest Protection Bureau of Phu Tho province,said this is the second time the Echinotriton asperrimus salamander species appearing in the mountainous district of Thanh Son.
In 2006, one individual of Echinotriton asperrimus salamander was founded in the Ten mountain in the Xuan Son National Park, Thanh Son district, about 30 km from the Hem mountain.
According to Lau, this is a very rare Echinotriton asperrimus salamander, in Group A in the Red Book of Vietnam and the world. This species helped scientists find the stem cell principle which is effectively applied in medicine.
Lau added that Echinotriton asperrimus salamanders were first discovered in 1909 at an altitude of 1,000 m of Mau Son Mountain, Lang Son province by a French forestry engineer. In 1940 this discovery was announced and this specimen is now stored and displayed at the Paris Museum of Nature, and the London Museum.
In order to protect this endangered species, Lau proposed the local government to have plans to preserve them and to create conditions for scientists to research and protection them.
VTC/TTXVN