Vietnam is suffering from severe plastic bag pollution, as it is among four Asian countries discarding the largest volume of plastic bags, Tien Phong newspaper reports, citing experts from a seminar on June 4.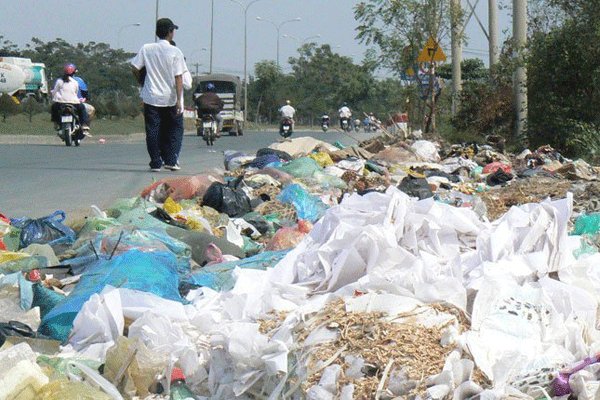 Vietnam is suffering from severe plastic bag pollution
The country should take tough measures to reduce the use of plastic bags, which take hundreds of years to decompose. Experts proposed banning local consumers from using plastic bags or further hiking the environmental protection tax on plastic bags.
To mark World Environment Day, which falls on June 5, the Ministry of Natural Resources and Environment held a seminar on the control of environmental pollution caused by non-biodegradable plastic bags on June 4.
At the seminar, Dang Kim Chi, a leading expert in solid waste, said Vietnam annually discharges a very large volume of plastic waste, following only China, Indonesia and the Philippines.
The country discards more than 30 billion plastic bags per year, as households in Vietnam use four plastic bags per day, on average. Of note, only 17% of plastic bags are reused, said Duong Thi Phuong Anh, from the Institute of Strategy and Policy on Natural Resources and Environment.
Plastic bags, after being disposed of as rubbish, can cause severe pollution and affect human health, Chi said.
She also voiced her concern over the large volume of garbage discharged into the ocean, which is mainly plastic waste. The volume of plastic waste is estimated at about 140 million tons, increasing each year by 10 million tons.
According to scientists from the Research Institute for the Management of Seas and Islands under the Vietnam Administration of Seas and Islands, Vietnam annually discards 0.28-0.73 million tons of plastic waste into the ocean, accounting for 6% of the world's total volume.
Nguyen Thanh Yen, deputy director of the Waste Management Division under the Vietnam Environment Administration, said the country has issued regulations on the management of plastic waste. However, the collection of solid waste, including plastic waste, fails to meet the target, with 85% in urban areas and 55% in rural areas.
Local people have not been educated about solid waste collection, classification, transport and treatment.
Regulations on waste discharge and treatment, and the production and use of environmentally-friendly bags to replace plastic bags, are not tight enough to meet requirements on environmental pollution control, Anh added.
She said Vietnam can learn from other countries' experiences to reduce the consumption of plastic bags.
For example, Bangladesh has banned the use of plastic bags, except for those used in exports. Those companies found to be producing and selling plastic bags could be fined while corporate leaders of such entities could be imprisoned for up to ten years.
Meanwhile, Botswana has prohibited the use of plastic bags thinner than 0.024 millimeter and imposed taxes on thick bags, thus reducing by one half the consumption of plastic bags. China does not allow the use of plastic bags thinner than 0.025 millimeter, and has banned restaurants, supermarkets and retail stores from providing free plastic bags, reducing two-thirds of all plastic bags.
Another proposal involves increasing the environmental protection tax on plastic bags. Under the Law on Environmental Protection Tax, plastic bags are subject to a tax rate of VND40,000 per kilogram, which remains low and has not helped reduce the production and use of plastic bags in Vietnam, a representative of the Ministry of Finance told the seminar.
At the seminar, 22 embassies and international organizations in Vietnam pledged to limit the use of plastic products in their offices and encourage their employees and partners to reduce plastic waste.
SGT