Vietnamese students won one third prize and one consolation prize at the Intel International Science and Engineering Fair (Intel ISEF) 2018 which was held in Pennsylvania, the US, from May 13-18.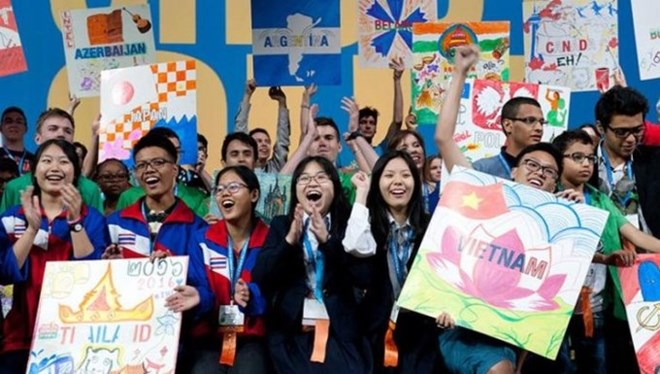 The Vietnamese team takes a group photo with other peers at Intel ISEF 2018 (Photo Courtesy of Society for Science and The Public)
Le Tuyet Quynh Anh and Pham Thi Minh Hue from Tran Phu High School for Gifted Students in the northern port city of Hai Phong claimed the third prize for their research project on the development of bacteriophage treatment which offers a possible alternative to conventional antibiotic treatment for bacterial infection. 
Their project named "Novel Bacteriophage Lysin: A Solution for Antibiotic Resistant Staphylococcus aureus Infection in Vietnam" had won the first prize at a national science technology competition for students in the 2017-2018 academic year.
Meanwhile, Le Ha Khoa and Nguyen Phuong Nam from Nguyen Hue High School for Gifted Students in Hanoi received a Certificate of Honorable Mention for their study on concentration of urine neurotransmitters of Dopaminergic and Serotonergic system and the relationship to behavioral disorders in patients with online game addiction.
Intel ISEF is the world's largest pre-college science competition which aims to promote the development of science through education and provide an annual playground for young scientists to showcase their talent and passion.
This year, the contest attracted 1,793 students from 79 countries and territories with 1,401 projects. The Vietnamese delegation brought eight projects to the competition and was one of 43 countries and territories that won prizes.
Deputy Minister of Education and Training Nguyen Huu Do lauded the achievements of Vietnamese students and hoped they will promote their creativity in scientific research.
Vietnamese students have engaged in the contest since 2012 and have won prizes at every event since then.
Last year, the Vietnamese team bagged five awards, including a third prize for a prosthetics arm project by Pham Huy, an 11th grader from a high school in the central province of Quang Tri. 
The others were four fourth prizes in system software, chemistry and embedded software.-VNA