The Ministry of Information and Communications plans to build a code of conduct for internet users to create a healthy networking atmosphere in the country.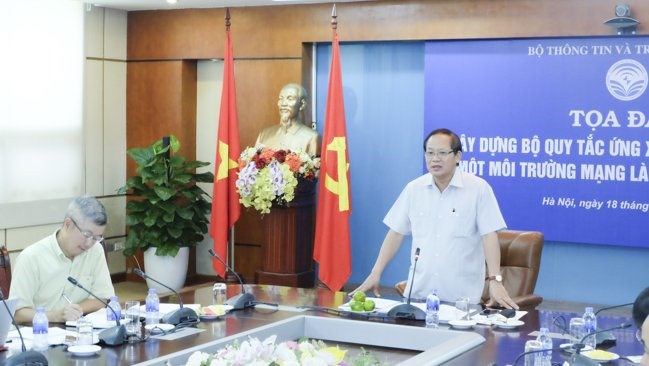 Minister of Information and Communications Truong Minh Tuan gives a speech at a conference on building a code of conduct for internet users on May 18. – Photo vietnamnet.vn
Speaking at a conference on Friday's morning, Minister of Information and Communications Truong Minh Tuan said the number of internet users in Vietnam had boomed in recent years.
Currently, there are some 55 million internet users in the country, accounting for 57 per cent of the population. Of this, 50 million access the internet via mobile phones.
Each user spends between 2.5 and seven hours every day on the internet, with Facebook and YouTube being the most popular websites.
Tuấn said apart from the undeniable positive aspects, social network also had its own shortcomings.
In Vietnam, social network, with its information-sharing ability, have contributed to rumours, seriously harming the reputation of and causing economic damages to organisations and individuals as well as created confusion among the public.
This kind of errant behaviour is becoming more common via social networking sites such as Facebook and YouTube, Tuan said.
A survey of the Vietnam Programme for Internet and Society (VPIS) showed that hate speech by social network users were manifested in many forms, including defamation, accounting for 61.7 per cent, slandering or fabricated information (46.6 per cent), racial discrimination (37.1 per cent), gender discrimination (29.03 per cent), stigma of disability (21.76 per cent) and religious discrimination (15.09 per cent).
These behaviours are penalised under the law with specific sanctions. However, the number of such cases that have been legally handled are few, leaving victims with severe physical and psychological damage.
Tuấn said the purpose of the code of conduct was to create agreement and general principles among social network users to function in a healthy and moral environment.
Based on this code, the agencies and units can formulate their own set of rules.
Tuan asked VPIS to collect feedback from the conference as well as the opinion of experts before finalising the code of conduct, which will also be open to the public for their feedback. – VNS