A seminar discussing the application of nanotechnology in treating aquaculture waste took place in the Mekong Delta province of Ben Tre on May 7.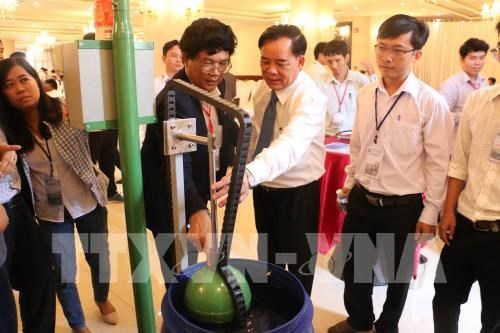 Participants of the seminar look at  a monitoring and warning system for saltwater intrusion 
The Vietnam National University - Ho Chi Minh City's Institute for Nanotechnology (INT) in collaboration with Japan's Kyushu University and Ben Tre's agricultural body organised the event.
According to INT Director Dang Mau Chien, the seminar introduced farming-related scientific products and technologies, such as a monitoring and warning system for saltwater intrusion and a nanosensor system of quarter quality assessment for aquatic farming.
Participants also heard the introduction of products made as part of a SATREPS project in Vietnam on aquaculture waste treatment and turning waste to electricity via new-generation batteries. The project used Japan's official development assistance. SATREPS is a science and technology diplomacy initiative that promotes international joint research using advanced science and technology from Japan.
In 2015, Ben Tre began a project on treating waste from shrimp farms and turning the waste into electricity. 
The INT will help expand the model across Ben Tre and in other parts of the Mekong Delta region, Chien noted.
Associate Professor Yusuke Shiratori from Kyushu University said the Mekong Delta's aquatic farming areas release a huge amount of waste on an annual basis, badly affecting surrounding environment.
The application of new technologies in waste treatment, particularly waste-to-energy, will help the region grow more sustainably, he added.-VNA