VietNamNet Bridge – The 89-year-old scientist Dang Huy Huynh does not need a cape to save lives. To millions of silent trees and flowers in the middle of Hanoi or deep in Vietnam's tropical forests, he is already a hero.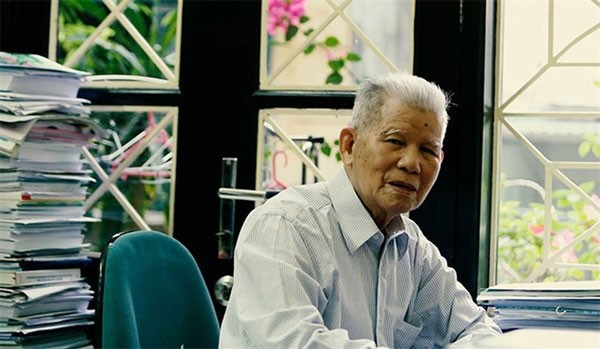 Dr Dang Huy Huynh. — Photo khoahocphattrien.vn
Dr Huynh's lifetime dedication to protecting biodiversity in the country's ecosystems was born during his youth when he served in the military and was dispatched to several battlefields, most of them in the forest.
When he was in his 20s, the young soldier left his poor hometown in the central province of Quang Nam to fight in the south and then in Laos, witnessing the tragedy of the war but also the beauty of Vietnam's never-ending forest.
"Our forest was so beautiful and there were so many kinds of animals. Day after day, months after months, the forest protected us, giving us food and water," Huynh remembered. "My love for the trees came naturally. They were like flesh and blood, like breathing to me."
After peace finally arrived, Huynh was discharged from the military. He started making trips to the forest in a different role – ecology researcher. He usually spent two or three months in the forest on each research trip, investigating the plants in the daylight and tracking the animals at night.
He made countless trips like that for the following 60 years.
Dr Huynh's most notable works, and also the ones in which he takes the greatest pride, were his Checklist of Mammals and Fauna of Vietnam and the Viet Nam Red Data Book. His contribution to the national red book was invaluable given that it made Vietnam one of only three countries in Southeast Asia, along with Thailand and Indonesia, to issue an official comprehensive red book on their plants and animals.
Dr Huynh also wrote several guide books on how to raise farm animals with high economic values to help lift poor communities out of poverty.
"They would learn what animals to raise and what plants to grow, raise their income and no longer come into the forest to cut the trees," he said.
Aging could never stop him from working. At the age of 81, he set up the Heritage Tree Council to identify and recognise nearly 3,000 trees of over 100 species as pieces of natural heritage to be protected from urbanisation and deforestation.
"I think that any trees that are between 100 and 2,000 years old should be considered a heritage," Huynh said.
The scientist travelled with his colleagues to all 63 provinces and municipalities across the country to find the right trees, sometimes by motorbike to save money. Among those recognised was a 60-year-old dracontomelon tree in Cao Bang Province, which was planted just five metres from the Chinese border. Some bang vuong and mu u (trees grown on the Song Tu Tay island in the Truong Sa (Spratly) archipelago) also made it to the list.
"Those trees were severely battled by strong wind and overwhelming sunshine, which prevented them from growing big. They might not meet the requirements to become heritage trees but were still selected due to their value to the country's sovereignty," Huynh said.
With his passion and dedication to Vietnam's biodiversity and environment, Dr Huynh was well regarded as the leading expert in the field as he became the director of the Institute of Ecology and Biological Resources.
His reputation then spread beyond the country's borders.
In August 2017, the Association of Southeast Asia Nations Centre for Biodiversity (ACB) in co-operation with the European Union honoured ten prominent scientists in the region as the ASEAN Biodiversity Heroes for their tireless efforts in biodiversity conservation. Dr Dang Huy Huynh was the hero of Vietnam.
"ASEAN is very rich in biodiversity. We only occupy 3 per cent of global land surface but 20 per cent of flora and faura species, one third of coral reefs and one third of mangrove forests. We have to protect it," said ACB director Roberto Oliva. "The work of Dr Huynh is very important. He made this lifetime commitment and contribution to Vietnam's biodiversity."
For younger generation
Huynh spent a huge sum of money collecting a library of rare books and documents on biodiversity during his decades of working. But he decided it was time to let them go.
He gave away more than 4,000 books to Tay Bac University and another 4,000 documents to the Cultural Heritage Bureau.
"I just kept a little for myself. I'm so old now and it would only be me who could use all the documents if they were still at my house," Huynh said.
Huynh also gave away all of his ASEAN Hero reward to his former workplace, the Institute of Ecology and Biological Resources, as a research prize for the students.
"The prize is a lifetime honour for me but its physical reward should go to the community. It might be nothing compared to the Government's budget [on biodiversity] but it was given with the heart of an old scientist," he said.
Chi Lan
Source: VNS