VietNamNet Bridge - Leading experts say that Vietnam must catch up with the IoT trend.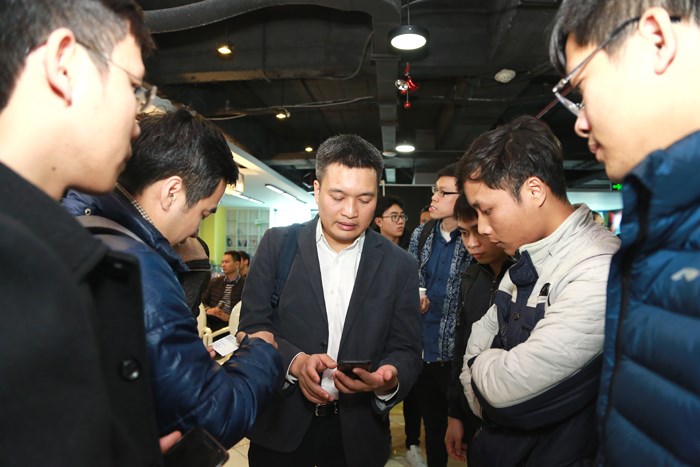 Experts say Vietnam must catch up with IoT trend
The emergence of IoT devices is changing the way people communicate, live, work, play and connect.

IoT allows cars connect to hospitals in case of accidents or helps give warnings to drivers. IoT creates smart clothes which alert users if they sit with the wrong posture.

In sports, smart tennis balls help athletes analyze behavior in order to optimize actions. In factories, self-propelled equipment is increasingly being used by enterprises to deliver goods and parcels.

According to Ericsson Mobility Report, there will be 28 billion connected devices in the world, of which 15 billion will be IoT connected devices, including M2M (machine to machine) such as smart meters, on-road sensors, and consumer electronics (televisions, DVRs and wearables). The remaining $13 billion will come from mobile phones, computers and tablets.
Vietnam has all the components to develop an IoT community, including support companies, co-working and Fablab systems.
In Vietnam, ideas about IoT-based products have been applied in reality. These include products in smart agriculture, smart homes and smart traffic.

According to Hoang Minh Chinh, a cloud computing expert from Microsoft Azure, who has 15 years of experience in software development, system integration and cloud computing, Microsoft's view is that IoT is not a technological revolution, but a business revolution.

Chinh cited IDC's statistics to show that IoT is expected to bring revenue of $1.3 trillion billion by 2020. 

Gartner estimates that the added value to be brought by IoT would be $1.9 trillion by that time, while McKinsay estimates that IoT would make up $11 trillion to the global economy.

Meanwhile, 80 percent of businesses believes IoT is the driving force to increase revenue.

Meanwhile, Le Hong Viet, CTO of FPT Group, commented: "Vietnam is stuck at the middle-income trap and it needs to improve productivity to escape it. This can be done with IoT".

Viet believes that the No 1 purpose of IoT is to improve productivity. As Vietnam needs to improve productivity, it has to research, develop and utililze IoT.

Vietnam has been advised to pay higher attention to developing IoT services, such as traffic solutions and security.

He is optimistic about the development of IoT, saying that Vietnam has all the components to develop an IoT community, including support companies, co-working and Fablab systems.

However, Vietnam has a weak point that its businesses often do not cooperate well. Therefore, it needs solutions to gather strength of IoT businesses to create an impact on the economy.
RELATED NEWS
Internet of Things to drive VN's digital future
Internet of Things as a tool of creation in Industry 4.0
Kim Chi