VietNamNet Bridge – Chu Ngoc Anh, Minister of Science and Technology, talks to Viet Nam News Agency about advantages that the fourth industrial revolution presents to the country and steps that need to be taken to tap them.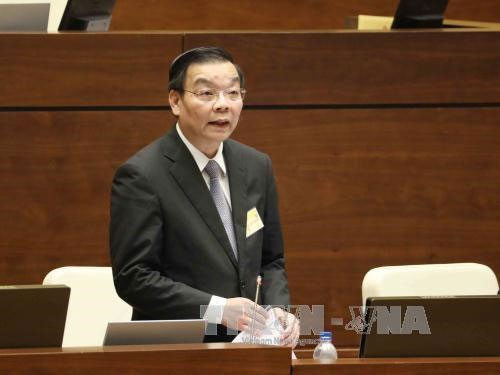 Chu Ngoc Anh, Minister of Science and Technology. - VNA/VNS Photo
Can you highlight some key points of the Prime Minister's Instruction on the fourth industrial revolution (Industry 4.0)?
We know that Industry 4.0 is based on digitalization and artificial intelligence breakthroughs. We can't afford to be an outsider in this process. It is indisputable that the revolution will open up many opportunities for us to improve our technology levels and our competitiveness in production and business. Of course, the process will challenge us and could have negative impacts on the country.
This is why Prime Minister Nguyen Xuan Phuc issued Instruction No.16/CT-TTg in May 2017 on how to approach Industry 4.0, towards seizing opportunities and minimising negative impacts.
Acting as a focal point for implementing the instruction, the Ministry of Science and Technology has formed a task force and developed an action plan. At the same time, we have instructed ministries, sectors and localities to pen their opinions and thoughts on bringing Industry 4.0 to life in Vietnam.
We can say that as of now, the Government, enterprises and people have fair knowledge of the 4.0 revolution and developed their own plans for it.
What have been the main developments so far?
Our information infrastructure has developed rapidly. Our human resources in IT have become an important economic sector. Many Vietnamese IT experts have been working abroad and are highly rated by their foreign peers.
The national programme "Supporting Start Up Ecology from 2017-2025" has spread nationwide. We have more than 3,000 start ups, 24 Cradle Seed Ventures, 10 business support organisations and 40 working Hub Spots.
In the year 2017 more than 40 venture capital investment funds were operating in Vietnam. In addition, several economic groups and big banks also offered financial support to Vietnamese startups.
Quite a few textile companies have applied automation in their production lines.
IT applications, automation or semi-automation have been widely applied in many sectors including agriculture.
In the public service sector, in major cities, electronic banking is set to replace some manual services.
To prepare personnel for the 4.0 industrial revolution, the Ministry of Science and Technology has worked closely with the Ministry of Education and Training to focus efforts on the teaching of STEM subjects in schools with an understanding of their real life benefits.
What should we do further to tap the 4.0 revolution?
The 4.0 industrial revolution cannot be a talk shop campaign. It has to be done in a real life. It should be integrated into the ongoing strategies or programmes. The Ministry of Science and Technology has come up with a proposal to aggregate the strengths of all ministries and sectors in the society in the course of developing a strategy to approach the fourth industrial revolution.
We have asked all ministries and sectors to review their development strategies and make adjustments for the 4.0 Revolution. They have also been asked to develop preferential credit funds for it. Meanwhile, we have requested the Government to further complete the legal corridor to support the operations of startups. 
Source: VNS