VietNamNet Bridge – Rice husk is no longer agricultural waste thanks to a heat press machine invented by rural engineer Tran Dinh Lai in central Thua Thien- Hue Province.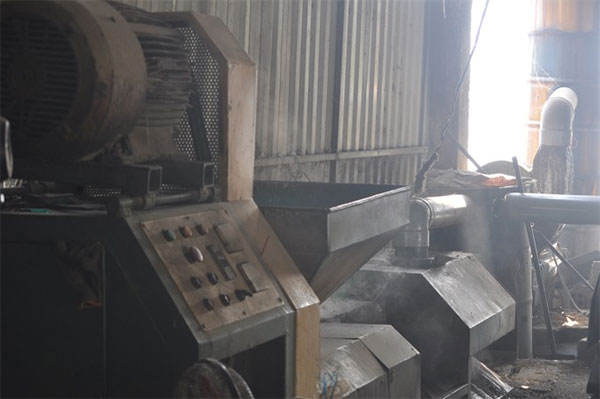 The machine at a facility in Lai's home village. — VNS Photos Phuoc Buu
Lai said his machines are present in most localities around the country and also in Laos and Cambodia. "Companies working in the industry that require huge volume of heat such as leather or textile in southern industrial parks are my main customers," he said.
"The machine helps them conserve energy and reduce production costs," Lai added.
Rice husk is abundant across the country as Vietnam is among the world's top rice producers and rice is the staple food for Vietnamese, including for those in Lai's home village An Xuan in the province's Quang Dien District.
Locals burn the husk to cook food but home cooking consumes little of the husk from rice production of each family. The majority of the husk is considered agricultural waste.
Lai designed his machine in 2007, but it took the machine almost seven years to become popular.
Born in 1976, Lai took a short course on simple engineering skill to make farming tools at Hue Vocational School for Industrial Skills in 1994 and began working in a cattle feed production plant.
He later quit his job and returned to the village to assist his family, where he opened a workshop to produce simple farming tools. "I nurtured the idea of a machine to make husk burning bars but I didn't have enough money," he said.
"Fortunately, I was lent a sum from the fund for science and technology research from the Department of Industry and Trade," Lai said. "I succeeded in making the machine a year later."
The machine was first not welcome in the community as locals thought they didn't need the bars of pressed husk as a burning material. They had hay and wood instead, according to Lai.
In 2014, some sought the machine and quickly made the machine popular. "Today I have customers abroad. I get orders, produce the parts and travel to the site for installation," Lai said, adding that the machine costs about VND70 million.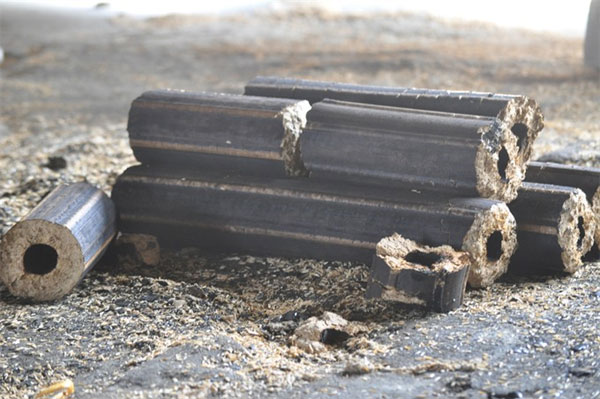 Bars of pressed husk, products made by Lai's machine.
Quang Binh, Thua Thien-Hue and Quang Nam provinces have the most customers that bought the machines not for industrial assembly, but to produce husk bars for home burning.
"Each province consumed 50 machines, thanks to their economic effectiveness and easy operation," said Le Van Dong, an employee of Lai's workshop.
First, husk is poured into a large funnel. The husk then flows to a tube, where the husk is pressed and heated to make bars. The bars drop out while dust and smoke are blown into a vertical giant tube, where smoke goes up and dust drops into a collecting tray.
The machine is electric-powered and has a control panel for operators. Husk, sawdust or sliced hay can all be fed into the funnel to make burning bars, Dong said.
Lai also provides a heating tool, which helps burn the fragments of a husk bar and dry the husk before it's poured into the funnel. Dry husk helps conserve the electricity that powers the machine.
According to Nguyen Thi Hang, who set up a facility producing the bars using Lai's machines, the bars have changed the way of burning husk in the village. She said she expected the need for the bars would increase, which helps her earn more income.
Dong said 1.1 tonnes of husk yields 1 tonne of the husk bars. "Which means the same quantity, but for double energy effectiveness as calculated by my customers," he said.
Dong, also a local, said he would assist Lai in producing more of the machines, as "the village looks tidy from husk and hay since Lai's invention came about."
In northern Bac Ninh Province, a young man became wealthy and created jobs thanks to the use of Lai's machines to produce the bars. Lai and Dong said they are supplying the machines and slow payment methods to those who lack funds. 
Phuoc Buu
VNS