VietNamNet Bridge - Following Oppo, other Chinese smartphone brands have been entering Vietnam, creating competition for other brands.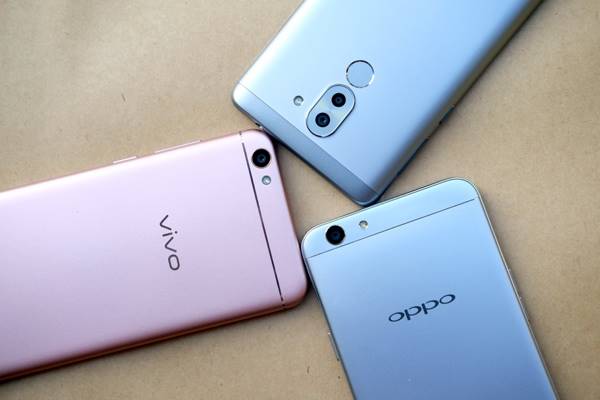 The list of best sellers in the first six months of the year made public by The Gioi Di Dong and FPT Shop, the two largest smartphone distribution chains, includes the products of three manufacturers – Samsung, Oppo and Apple. 
The list has stayed unchanged for the last few years.
However, a new name unexpectedly turned up in the Q3 list. In FPT Shop's list of top 10 models, one can see Y55S, a model of Vivo, in the eighth position.
As such, for the first time, a Chinese name joined the ranks of the most powerful manufacturers in Vietnam.
While other giants such as Sony, HTC, Asus and LG have disappeared from the list, a new Chinese brand has appeared. Analysts commented that in Vietnam, like other markets, Chinese smartphone makers are turning up pressure on Apple and Samsung as phone sales rise. 
In Vietnam, like other markets, Chinese smartphone makers are turning up pressure on Apple and Samsung as phone sales rise. 
Huawei recently appointed a new director in Vietnam and stated that the Chinese brand would be in top two smartphone manufacturers by 2020, a very ambitious plan.

In the market survey by GfK in May 2017, Huawei and Vivo were in the sixth and seventh positions. However, there was a very small gap between them and Vietnam's Mobiistar. This means that the two Chinese brands may outstrip the Vietnamese brand one day.

The Chinese brands may also target the third position, but this is a difficult task. The two brands now hold 2 percent of market share, while Apple, which is now in the second position, has 8.88 percent of market share.

At a new model launching ceremony, when Xiaomi's Donovan Sung was asked about the users' attitude towards Chinese brands like Xiaomi, he said he knows Vietnamese users' attitude toward Chinese products is changing step by step.

"We are trying to create products with high quality which bear comparison with global brands," he said.

Xiaomi introduced Mi Mix, a model with a design different from most models available in the market with integrated technologies.

Jim Xu, vice president of Huawei, said one year ago that Huawei will invest in R&D, and would make products for the European and US markets first, and once its quality is confirmed, will enter smaller markets.

"It seems that the more they are discriminated against, the more Chinese manufacturers are determined to prove their capability," a distributor said.
RELATED NEWS
Chinese phone invasion raises concerns about information security
Chinese smartphone brands numerous but sell poorly in Vietnam
Mai Thanh