VietNamNet Bridge - The 4.0 industrial revolution is expected to help increase productivity significantly, but the product cycle will be shorter with the appearance of intelligent factories.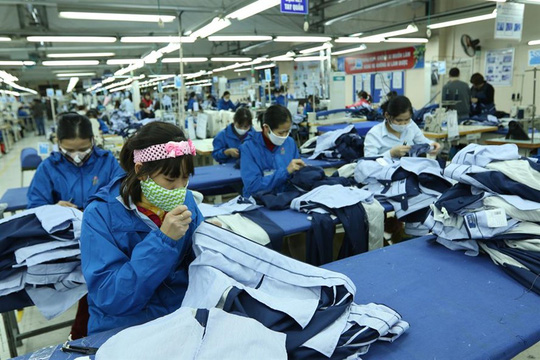 The current textile and garment factories may disappear in 10 years, and 86 percent of workers will become redundant, experts have predicted. 
The labor-intensive textile and garment industry will use new technologies such as AI, robots and IoT for work now being done by humans.
Nguyen Thi Thanh Huyen, general director of Garment 10, said the 4.0 revolution will bring great opportunities to developing countries like Vietnam, but a high proportion of workers in the textile & garment industry will become redundant because of the appearance of robots and modern machines.
The current textile and garment factories may disappear in 10 years, and 86 percent of workers will become redundant, experts have predicted. 
Local newspapers have reported that the revolution has already affected Vietnam. A Hanoi-based company has dismissed 80 percent of workers as robots now undertake the work.

The revolution is expected to have a big impact not only on labor intensive industries, but in all socio-economic fields.

"We missed the three previous revolutions. I wonder if this will happen with the fourth revolution," Hoang Manh Tan, deputy general director of Son Ha Group.

According to Tan, Vietnam's industrial production is now mostly primary production which does not create high added value, with exports mostly raw materials. 

"The production cost in Vietnam is much higher than that in other regional countries," he said, adding that China can make products at low cost because it has modern technology and large-scale production. 

Nguyen Phu Cuong from MOIT commented that the biggest obstacle for Vietnamese enterprises is the outdated technology. Therefore, it will take time and great effort to digitize technologies.

"If Vietnam cannot catch up with the development pace in the world and the region, Vietnam will have to face many risks, including production decline and labor redundancy," he said.

Cuong also warned that there might be a wave of outdated technologies from developed to developing countries, including Vietnam.

The impact of the industrial revolution, both positive and negative, is unavoidable. The only thing Vietnamese enterprises can do is take full advantage of the opportunities and confront challenges. In other words, they cannot miss the '4.0 revolution train'.

Phi Ngoc Trinh, general director of Ho Guom Group, doesn't think that workers will completely be replaced by robots in the next 10 years, but that gradual replacement in some fields will take place. 

"Until that time, Vietnamese enterprises need to be financially prepared for the replacement," he said.
RELATED NEWS
Will Vietnam be able to catch up with the 4.0 industrial revolution?
Businesses hurriedly preparing for 4.0 revolution
Kim Chi