VietNamNet Bridge - For 15 years, a Vietnamese scientist has been devoted to the work of using sand to produce solar energy with polycrystalline technology, which absorbs light and turns it into power even on dark days.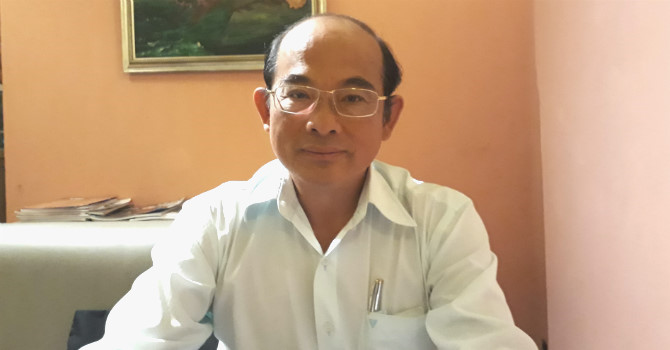 Prof Tu Trung Chan
In 2002, Chan returned to Vietnam to work for the Research and Development Center at the HCM City Hi-Tech Park.

Do you still persist in the dream of producing clean energy and getting a patent for producing silicon-based solar energy?

In the last 15 years, I have been proposing the purchase of machines and equipment and research to develop clean energy and save energy. 

If things could have been done well, people would have been able to use made-in-Vietnam LED lamps. 

Due to the problems in management, I decided to set up a business of my own which researches and develops LED lamps. Using LED lamps saves big money, especially for large construction works such as bridges, boulevards and highways.

The project to produce solar cells on silicon wafer and solar cells with the technology of absorbing infrared spectrum to convert to electricity has a patent from the US.

There are over 300 sunny days a year in Vietnam and the white sand source are  suitable for making energy glasses that absorb photo energy to produce power.

The Ministry of Industry and Trade also wanted to develop the project. It has submitted a plan to the Prime Minister and Government Office, but there has been no reply.

I submitted the plan in 2013 but it did not get approval.

The government has set up a new policy on the development of renewable energy, but the renewable power pricing policy was delayed many times, with investors missing opportunities.

Does the delay in developing renewable power create favorable conditions for hydropower and thermopower, which harm the environment?

In France, when households install solar cells on their roofs, they don't pay money to the State. In the US, the government gives households $1,000. While Vietnam has good natural conditions to develop solar energy, it still develops thermopower and hydropower, thus causing pollution.

How about your technology of turning sand into energy? Will it be costly?

The government has been aware of the importance of solar energy. However, you can see that many investors are developing projects for financial purposes. Meanwhile, scientists like me want to develop source technology.

The technology in the rest of the world is single crystal, while my technology has lower production costs, consumes less materials and uses less workers.
RELATED NEWS
More renewable energy projects licensed
Collaboration is the key to a renewable energy future
Vietnam looks towards renewable energy development
Mai Chi