Giant mobile phone retailer The Gioi Di Dong (Mobile World) Investment Corporation has opened its first store outside the country.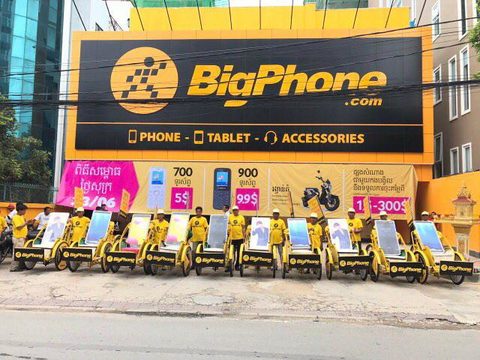 BigPhone store in Cambodia.
It is a 400sq.m store called BigPhone in the Cambodian capital Phnom Penh.
Mobile World said BigPhone sells phones and tablets made by Samsung, Huawei, OPPO, Camfone, and LG besides accessories like pre-paid cards and sim cards.
Apple and Nokia products will be sold from July.
A company spokesperson said a monthly turnover of US$100,000 is expected initially.
The company next targets Laos and Myanmar, he said.
Hoàng Anh Gia Lai deal
In another development, Mobile World announced it has tied up with Hoang Anh Gia Lai Group for buying fruit for its BachhoaXANH store at competitive prices.
Tran Kinh Doanh, general director of Mobile World, said, "BachhoaXANH will be expanded quickly to gain a big share of the retail market."
Hoang Anh Gia Lai Group has dozens of hectares of orchards in Viet Nam, Laos Cambodia where it grows tropical fruits like passion fruit, mango, dragon fruit and banana.
BachhoaXANH is a mini store chain selling fresh food that Mobile World launched in 2015. It has two outlets in Tan Phu and Binh Tan districts in HCM City.
Hoang Anh Gia Lai, which used to be a property developer, now also has major interests in the agriculture sector. 
VNS