VietNamNet Bridge - Many young people can earn thousands of dollars a month just by uploading video clips on Youtube.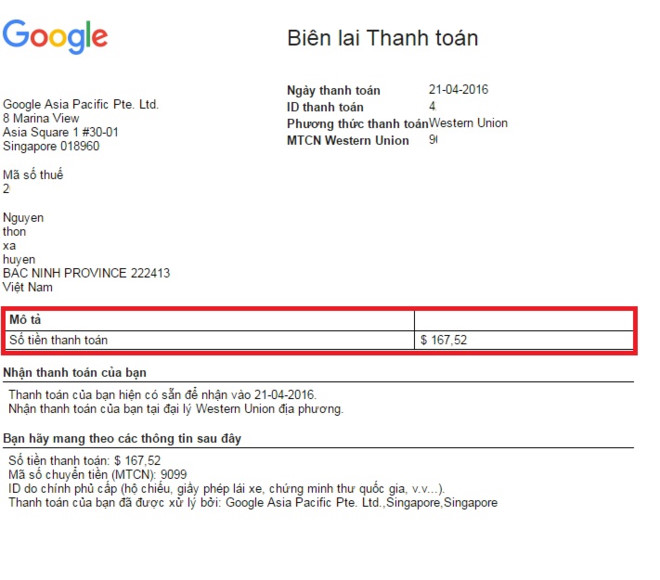 Huu Hien from Bac Ninh province, a university student, said he can earn more than VND10 million a month by uploading videos on Youtube channels. 
Hien seeks hot topics on domestic and foreign websites, creating videos or editing existing videos and then uploading on channels to attract views.
"When you see videos on Youtube, you will see ads. We make money by allowing to run ads on the videos we post. Money is paid for every time the ad pieces are watched," he said.
Many young people can earn thousands of dollars a month just by uploading video clips on Youtube.
"Video uploader can get paid for every real view of ads for more than one minute," he explained.

He is not required to sign contracts with any parties on running ad pieces. The ads exist on Youtube, and Youtube allows users to insert ads into their videos and pay to users if the ads are watched.

The payment is made through many different modes, including Paypal and Western Union. One year ago, Hien could earn VND4-5 million a month only, but now he can earn VND10 million as he has more experience.

V. Tai in Cau Giay district, Hanoi, a video maker, said Youtube pays money for videos which have certain numbers of viewers. 

However, the amount of money Youtube pays depends on many things, from the content of the videos to the ads on videos. It also depends on which countries the videos are watched in. If the videos are watched in the US, the pay will be better than in Vietnam.

He went on to say that from April 7, one only can get money from the videos on Youtube if the videos get 10,000 views or more, and these must be real views.

"In the US or Europe, one would get the pay of $2-3 for every 1,000 views. However, in Vietnam, you will receive $0.3-0.5 only for 1,000 ad views," he said.

By creating videos for entertainment and editing existing videos, Tai can earn VND30-40 million a month.

"Some members in our team can earn nearly $1,000 though they just stay at home," he said.

Youtube Partner is a program that helps users make money by installing ads on the videos that users upload. Since Youtube fell into the hands of Google, users can make money with Youtube through official Google ads. 

Youtube even has a specific website that shows users how to make money with the method. 

"Channel owners need to understand viewers' taste to create the videos which can attract them. They also need to master the SEO (search engine optimiziation) art," Tai said.
RELATED NEWS
Vietnamese businesses stop advertising on Youtube
Advertisers held responsible for advertising on illegal videos on Youtube?
Buu Dien