VietNamNet Bridge - Young commercial banks in Vietnam have geared up to automate retail banking services in order to compete with older banks.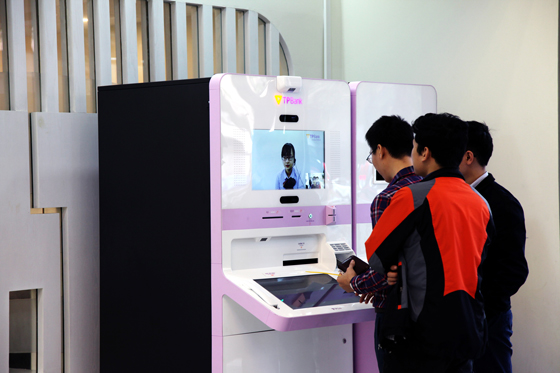 On February 23, TPBank launched LiveBank, an automation banking model, believed to be the most modern auto bank model which allows customers to make many kinds of transactions and interact with devices.
LiveBank combines the features of basic banks with an online Video Teller Machine to serve customers.
The latest report of the bank shows that 43.3 percent of cash transaction value on LiveBank machines in the last month were transactions of depositing money into accounts. 
TPBank offers deposit interest rate of 6.9 percent to individuals and institutions that make 1-year term deposits through LiveBank instead of transactions at counters or via eBank. 
Depositing money into accounts and opening savings books are the features most appreciated by customers so far.
Young commercial banks in Vietnam have geared up to automate retail banking services in order to compete with older banks.
A banking expert said that LiveBank's machines now can serve as systems to mobilize capital automatically. Both LiveBank and ATM (auto telling machine) are automated retail banking systems, but LiveBank has greater advantages because it allows customers to make most basic kinds of transactions.

LiveBank also carries out other operations, such as opening payment and deposit accounts, making real-time video calls, and scanning passports and identity cards under OCR technology.

An SBV report showed that by the end of 2016, Vietnam had had 17,472 ATMs with the total transaction value of VND1,802,527 billion. The transactions were mostly cash withdrawal and transfer.

Only a few ATM systems run by Dong A Bank, Sacombank and TP Bank allow deposits of cash into accounts.

An analyst noted that the banks with the largest total assets were not providing  services with flagship banking technologies.

Dong A Bank was the first bank in Vietnam allowing customers to deposit money into accounts through ATMs. TP Bank was the first bank applying biometric fingerprint security on phones in January 2016 with eBank V7.0. VietinBank now also allows customers to log in with fingerprint on iPhone. CitiBank Vietnam has applied voice security since October 2016.

Of these, TP Bank most keeps up with the pace of the most prestigious banks in the world. In September 2015, Bank of America began allowing customers to log in internet banking with fingerprint on iPhone. Just four months later, TP Bank introduced eBank V7.0 with similar features.
RELATED NEWS
Bright prospects seen for digital banking in Vietnam
Hackers pose growing threat to internet banking system
Mai Thanh