VietNamNet Bridge - The scientists from the HCM Biotechnology Center have succeeded in using Agrobacterium rhizogenes bacteria to create hairy roots of Ngoc Linh ginseng (Panax vietnamensis Ha et Grushv) which contains active saponin.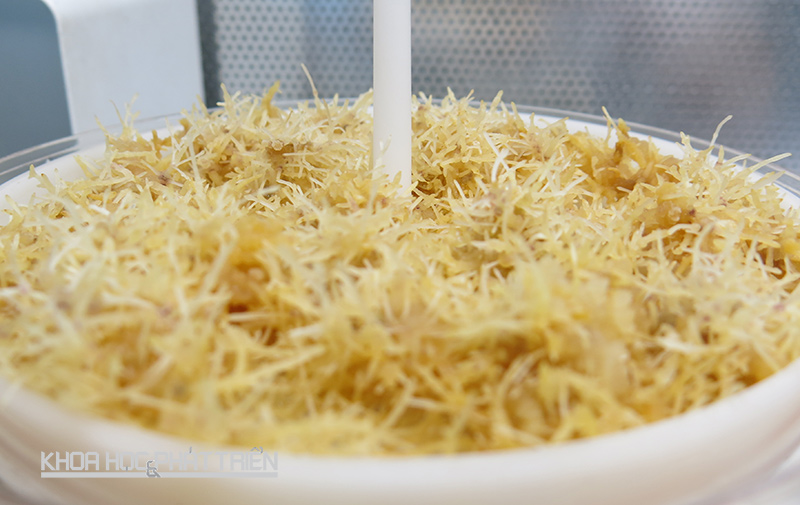 According to Dr Duong Hoa Xo, director of the center, it takes five to seven years to grow Ngoc Linh ginseng, while the yield is low and the plant is only suitable to soil conditions in Ngoc Linh mountainous area. 
Therefore, the success of the research has an important significance as it helps multiply ginseng roots more quickly and provide materials to produce saponin as alternatives for natural products.
The scientists infected the wounds in petiole and leaves of ginseng cultivated in the laboratory with agrobacterium rhizogenes, a Gram-negative soil bacterium that produces hairy root disease in dicotyledonous plants, which contains rol gene.
The gene is transferred from the bacteria into ginseng plants, stimulating the hairy roots to grow strongly without the need for a growth-promoting agent it is able to synchronize secondary active elements like the mother plants in the wild.  
It takes five to seven years to grow Ngoc Linh ginseng, while the yield is low and the plant is only suitable to soil conditions in Ngoc Linh mountainous area. 
The analysis of the extract from the created hairy roots showed there were three groups of Protopanaxadiol, Protopanaxatriol and Ocotillol saponin in Ngoc Linh ginseng, including G-Rg1, G-Rb1 and MR2.

The scientists selected some fast-growing, high-saponin hairy roots to multiply on the bioreactor system with a multiplication coefficient of up to 20fold after two to three months of culture.

Xo said the center has signed an MOU with a herbal medicine company on cooperation in making products from ginseng hairy roots, such as liquor, tea and other drinks.

Nguyen Minh Duc from the HCMC Medical and Pharmaceutical University, highly appreciating the research work, said that the work will increase opportunities for people to use Vietnamese ginseng.

According to Xo, with the focus on research and transfer pf technology to serve production, in the last 12 years since the establishment, the center has implemented three scientific research projects at the state level, 16 projects at provincial level and more than 80 at grassroots level in many different fields.

In plant biotechnology, hundreds of precious medicinal herbs, orchids and ornamental plant species have been successfully preserved and multiplied.

As for orchids, scientists have collected, imported, tested and multiplied 350 varieties of different kinds, serving the preservation of gene sources and breeding. These include 136 varieties of precious forest orchids of Vietnam.

In 2014, the center put the glass house and net house that serve the plant tissue cultivation into operation. Since then, the multiplication capacity has reached nearly 400,000 plants. 

In creating orchid varieties, there have been 34 successful cross-bred combinations multiplied in a laboratory; 30 combinations were grown in an arboretum and 19 combinations have bloomed.
RELATED NEWS
The mysterious ancient cinnamon forest on Ngoc Linh mountain
Indigenous Ngoc Linh ginseng becoming scarce
Thanh Lich