VietNamNet Bridge - Rice husks, which can produce silica, an input material for many kinds of paints, have increased in value.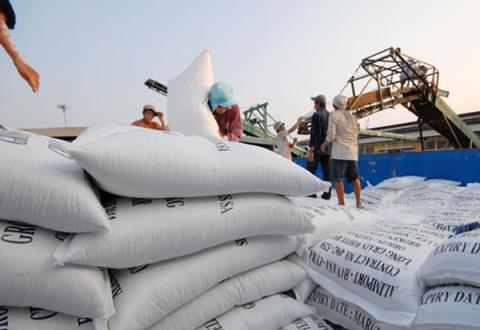 When the rice yield is high, rice husks are collected at the price of VND600,000 per ton. If the yield is lower, rice husks could be sold for VND1 million per ton.
Vietnam, as a large rice export country, has 9 million tons of rice husks every year, which means that it can get VND5.4 trillion from rice husk, or $240 million. 
Vietnam exported $2.68 billion worth of rice in 2015. As such, rice husks were valued at 1/10 of rice export turnover.
Scientists say rice husks can be used to make amorphous silica utilized in metallurgy, humidity absorption, ceramics & fire-resistant materials production. Silica can also be use to make high-grade concrete, tires, paint, hydrogel and solar cells.
Some days ago, at a workshop titled 'rice husk energy and silica', Rice High Technology (RHT) from Russia introduced technology which collects silica with the purity level of 98.5 percent from burning rice husks.
The demand for silica is high in the world market. Producers can sell silica abroad, or provide it to domestic companies, including Kova, a paint manufacturer. Kova's self-cleaning coatings, fire retardant paint and anti-bacteria paint products, sell very well in Singapore and Malaysia and all use silica.
Kova imports silica for domestic paint production. 
Rice husks, which can produce silica, an input material for many kinds of paints, have increased in value. 
It is estimated that every ton of rice husks can produce 200 kilos of silica. This means that 9 million tons of rice husks can put out 1.8 million tons of silica a year.
Amorphous silica prices in the world market vary, from tens of dollars to thousands of dollars per ton, depending on the quality. Silica for metallurgy can be priced at $500 per ton. This means that Vietnam's 1.8 million tons of silica can bring $900 million in export turnover.
This amount of silica can make tyres valued at up to $3.6 billion. With amorphous silica at a very high quality used to make solar cells, priced at $1,500 per ton, Vietnam would be able to earn $27 billion.
Like rice husks, straw, which Vietnamese farmers threw away in the past, now can be exported to Japan. Japanese J-Bix has signed a memorandum of understanding (MOU) with the Can Tho City People's Committee on its import of rice husks and straw from the Song Hau Farm.
According to Aoyama, vice president of J-Bix, the association needs 220,000 tons of straw each year for feed for cows and for making tatami. 
Mai Thanh