VietNamNet Bridge - The recent archaeological discovery proves the presence of people 800,000 years ago living in Vietnam.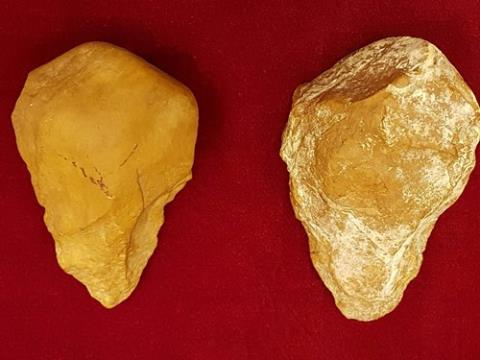 The team of archaeologists from the Novosibirsk Institute of Archaeology & Ethnology belonging to the Russian Federal Science Academy and the Institute of Archaeology and Vietnam Academy of Social Sciences made the discovery about the existence of a production workshop of Vietnamese primitive men.
Dr Nguyen Gia Doi, Deputy Director of the Institute of Archaeology, said the exact name of the relic site is an early paleolithic relic with fossil tektite samples believed to be aged 770,000-800,000 years and stone artifacts such as hand axes.
This means that the upper course of the Ba River in An Khe was the place for people 700,000 years ago. This s the oldest appearance of humans and civilization ever recorded in Vietnamese territory. 
Also according to Doi, about 50 years ago, Vietnamese archaeologists unearthed old stone tools on Do Mountain in Thanh Hoa province, dating back about 300,000-400,000 years. 
The recent archaeological discovery proves the presence of people 800,000 years ago living in Vietnam.
The stone tools found on Do Mountain were discovered on the surface area, therefore, the stratigraphic evidence is not really certain. Meanwhile, the stone tools found in Gia Lai were associated with other types of stone.
Experts said that the tools found in An Khe and their date belonged to Homo erectus period, which is one of the direct ancestors of modern humans. 
Therefore, Doi affirmed that the discovery of the early paleolithic relic has important significance not only to Vietnam, but also South East Asia.
The discovery provides more information about the existence of the Paleolithic time in South East Asia and can help clarify views which remain unclear to scientists.
A viewpoint existed for a long time that hand axes appeared early in the West which showed human's progress, while In the Easy only simple tools were found did not make great contributions to human development.
Since mid-2014, Vietnamese and Russian archaeologists have been working on the excavation of the Go Da and Roc Tung relics in Gia Lai.
The Vietnam Archaeology Institute plans to propose the Ministry of Culture, Sports and Tourism to recognize the artifacts as the nation's special relics to be put under special protection.
Dat Viet