VietNamNet Bridge – A team of 12 young designers and engineers made a chair for children with physical disabilities during a 72-hour Makeathon for Children with Disabilities held last week in HCM City.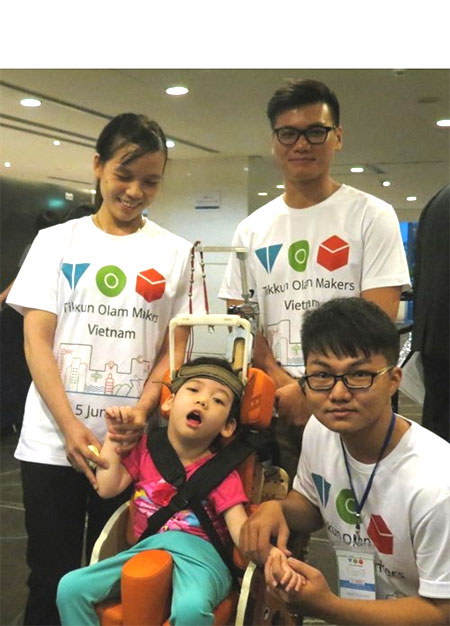 Le Phuoc Dang Huy demonstrates a chair that his team made for children aged 4-8 with physical disabilities and cerebral palsy at the Makeathon event held recently in HCM City (Source: VNA)
The chair is designed for children aged four to eight, including those with cerebral palsy.
The unique Makeathon was organised to promote innovative solutions for children with disabilities.
Seven teams took part in the conference, each chosing one child with disabilities and working together to develop a product for him or her.
Le Phuoc Dang Huy said his team created a chair to help a young disabled girl from Binh Tan District move around freely.
The chair can be adjusted to the girl's height and width as she grows. It also helped the girl keep her head straight and has an air circulation system that helps her sit for a long time.
The wooden material of the chair is flexible and not heavy, which helps in transporting it.
If the chair was produced in large quantities, it would cost up to 2 million VND (88 USD) each, he said.
Nguyen Thi Hong, the girl's mother, said: "My daughter wants to go out and sit to see around. But if she is carried for long time, she has pain because of blocked blood circulation. Lying down for a long time also causes discomfort."
Other products made during the Makeathon included a joint rehabilitation device to stretch wrist and ankle muscles, and mechanical gloves that help each finger move independently.
The project was a co-production of the US Consulate General in HCM City, the Israeli Economic and Trade Mission to Vietnam, UNICEF, the Disability Research and Capacity Development Centre and Fablab Saigon.
Marianne Oehlers, chief of the Programme Partnerships Office at UNICEF Vietnam, said that children with disabilities were among the most vulnerable and marginalised populations in Vietnam.
About 85 percent of them do not complete primary school and only one in five use special aids or devices.
VNS