Scientists have discovered a new Murina bat species living on a high mountain peak in Ngoc Linh Nature Reserve in the Central Highlands province of Kon Tum.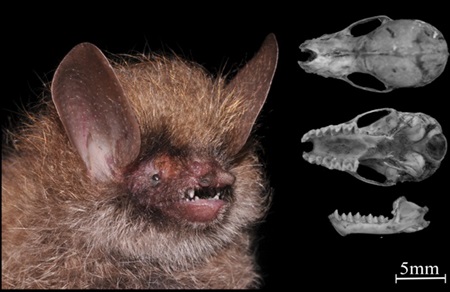 The newly discovered bat species, Murina kontumensis. — Photo courtesy of Viet Nam Academy of Science and Technology
Vietnamese scientists from the Viet Nam Academy of Science and Technology and their Japanese partners from the Japan Society for the Promotion of Science found the bat species during a field trip that began in September 2014.
The scientists named it Murina kontumensisand said the bat species lived in the evergreen forest at a height of 1,700m above sea level.
The announcement was made recently after the scientists checked the species formation and gene structure of the bat with the Hungarian Natural History Museum. The scientists said the newly discovered bat had different characteristics from other bat species in Viet Nam.
The area where the scientists found the bat demonstrates high biodiversity, but it is vulnerable to the effects of deforestation and development. 
VNS