The Viet Nam Posts and Telecommunications Group (VNPT) and the Viettel Group are set to implement a pilot project to move from Internet Protocol version 4 (IPv4) to IPv6.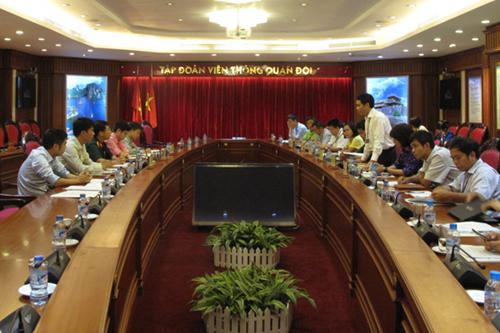 Viettel Group reports its IPv6 deployment to the Viet Nam IPv6 Task Force of the Ministry of Information and Communications.  Photo mic.gov.vn
This was stated by representatives of the two largest telecommunications companies in Vietnam during a meeting with the Ministry of Information and Communications' Viet Nam IPv6 Task Force on July 15.
VNPT Deputy General Director Nghiem Phu Hoan said the company had carried out technical tests and network assessment and instructed its employees on operating the networks in 2011 and 2012.
Services such as internet access, data transmission, 3G services and video conferencing would be implemented on the IPv6 infrastructure for a group of customers at the end of the year, before IPv6 is launched officially in 2016 and 2017, he said.
Viettel Deputy General Director Hoang Son said the shift to IPv6 was inevitable to enable the firm to meet its business requirements and support implementation of the 4G Long Term Evolution standard.
The firm will test the provision of IPv6-based fixed and mobile phone services in labs in the third quarter of this year, he said. Viettel would then provide pilot services to some customers in the first quarter of next year, he added.
During the meeting, the two companies' representatives also said that they were facing difficulties related to costs, equipment and time in implementing the transition from IPv4 to IPv6.
Deputy Minister of Information and Communications and the head of the Task Force, Le Nam Thang, appreciated the efforts of VNPT and Viettel and said that the Task Force would make appropriate adjustments and give more effective directives on the matter.
Telecom companies needed to look at their plans so that they could deploy IPv6 nationwide by 2019, he said.
Due to the limited number of ports available for each IPv4 address, the Minister of Information and Communications had issued a decision to establish a national IPv6 task force on January 6, 2009. The ministry had also issued a national action plan on IPv6 that set out objectives and road maps for the move to IPv6. Based on the national action plan, telecoms firms have developed specific plans for the transition suited to their conditions and networks.
The transition process has three phases. Viet Nam is in the second phase, which runs from 2013 to 2015. The official switching will be carried out in the third phase, from 2016 to 2019.
VNS