The Obninsk Institute for Nuclear Power Engineering (IATE) of the National Research Nuclear University (MEPhI) of Russia, where over 200 Vietnamese students are studying, is an incubator for Vietnam's nuclear energy development, thanks to the quality of its training programme.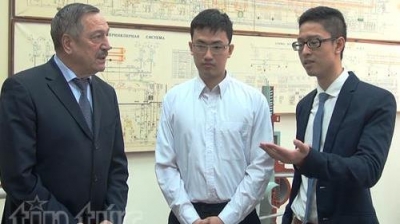 Vietnamese students discuss with their professor.
The university, around 100km southwest of Moscow, was established in 1953 as a branch Obninsk Institute for Nuclear Power Engineering to educate specialists to rapidly develop nuclear power in former Soviet Block countries.
According to IATE President Natalia Ayrapetova, with a great deal of experience in training specialists for countries developing nuclear power, the university has trained not only specialists to operate nuclear power plants, but also nuclear power experts for agencies related to the nuclear power development of a country, including law enforcement bodies, energy ministries and oversight agencies.
She said that all Vietnamese students of the university have majored in operating nuclear power plants, including utlising nuclear power and ensuring radioactive safety and plant safety.
Before starting their main curriculum, the students have to complete a preparatory one-year course of Russian language in which they must understand about 2,000 special technical terms.
The first Vietnam students will graducate in 2017 and will be able to work in Vietnam after apprentice positions in operating nuclear power plants in Russia, which are similar to those to be built in Vietnam, Ayrapetova said.
The students have to complete three apprenticeships: a two-week trip to get familiar with a nuclear power plant, another period in the fifth academic year to get used to main equipment of the plant and a long-term internship before graduation which is closely linked to their dissertation.
Yulia Rastopchina, head of the International Training Unit and Dean of Russian Language Department said that the university is training students from Vietnam, Turkey and Bangladesh, where different projects on building nuclear power plants are under way.
"Though the nuclear reactors are all being built in Russian VVER reactor technology of the Pressurised Water Reactor, they have slight differences together with different construction and business agreements. However, the students are studying the same curriculum together. The only difference for the foreign students is that they are trained on specific types of nuclear reactors", Rastopchina added.
She said that professors are interested in teaching Vietnamese students as they are hard-working, disciplined and strong in maths, physics and general knowledge.
Professor Sergey Leskin, Dean of the Nuclear Power Equipment and Machine Operation, revealed that starting in their fourth year, students will learn nuclear reactor physics and rationale of reactors, get familiar with the structure of a nuclear reactor and prepare to join projects in which they require expert-level knowledge.
Regarding technical terminology, Nguyen Tri, a fourth year student majoring in nuclear power plant construction, operation and control said that they have to understand terminology in an abstract way. Tri also finds it difficult sometimes to translate the terms into Vietnamese.
Pham Dinh Thang, a third-year student majoring in nuclear power, said that first-year students face the biggest challenge of language barriers as they have to master Russian language to understand lessons.
In the third and fourth year, they begin to study subjects which have not yet been taught in Vietnam, requiring them to read and study in Russian without translation into Vietnamese, or ask Russian people for explanations, Thang said.
When they graduate in three years, the nuclear power plant in Vietnam will not yet have been completed, thus they want to study more about nuclear power to strengthen their knowledge and work independently without support from Russian experts for the best operation of the plant.
Nhan Dan/Tin Tuc