VietNamNet Bridge – Coc Coc, the Vietnamese developed browser and search engine, has surpassed Firefox and Internet Explorer to become the second most popular browser, after Chrome, in Vietnam.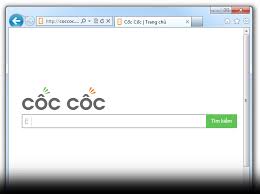 Coc Coc (coccoc.com), a product created and developed by three Vietnamese programmers who are graduates of Moscow State University, made its debut two years ago, in May 2013.
The internet browser is developed on the basis of Chromium, the open source code that has been used by Chrome and Opera.
At the establishment of Coc Coc Company Limited, its founders and staff drew special attention from the public when stating that it will develop a Vietnamese browser specifically reserved for Vietnamese.
Coc Coc, as planned, has been growing rapidly in Vietnam. Two versions designed for computers running on the two current most popular operating systems, Windows and Mac OS, have been launched in the last two years with 42 million downloads.
In February 2014, or just nine months after the launch, Coc Coc was listed by StatCounter among the top three popular browsers in Vietnam with 6.4 million users every month.
In August 2014, a report by comScore showed that Coc Coc ranked second in Vietnam in terms of daily users, 4.19 million, after Google (5.95 million) and above Facebook (2.96 million).
The Vietnamese browser had 10 million users after 18 months of operation. There are 90,000 downloads every day, according to Coc Coc.
Analysts noted that Coc Coc holds the upper hand over foreign rivals in Vietnam because it can offer what Vietnamese want.
In 2013, Coc Coc attracted the public with its ability of searching spots and 360 degree filming technology – something that other tools still could not offer.
In 2014, Coc Coc launched utilities suitable to the domestic market. Coc Coc is integrated with a downloading tool, for videos and digital music from most websites. The download speed of Coc Coc can be eight times faster in standard conditions thanks to the Internet Download Manager (IDM).
Coc Coc users can access Facebook but they don't need to change DNS or use Hotspot and Ultrasurf. If users type Vietnamese with no acute, grave or dots on accents, Coc Coc will automatically add the accents, thus helping to increase the typewriting speed by 20-50 percent.
In related news, Germany's Hubert Burda Media in early 2015 announced that it will invest in Vietnamese web browser and search engine Coc Coc.
Hubert Burda Media owns over 400 print and digital consumer brands, making it one of Germany's largest media firms. It has 165 million users, approximately 40 million paying consumers and 43,000 advertisers.
Peter Kennedy, executive chairman of Hubert Burda Media in Asia, said Coc Coc reaches a very big audience, and has shown remarkable technological competitiveness and strong growth. 
Buu Dien