VietNamNet Bridge – Russian atomic energy group Rosatom has stated that it will give priority to Vietnamese sub-contractors for construction of the Ninh Thuan 1 nuclear power plant, the first of its kind in Vietnam.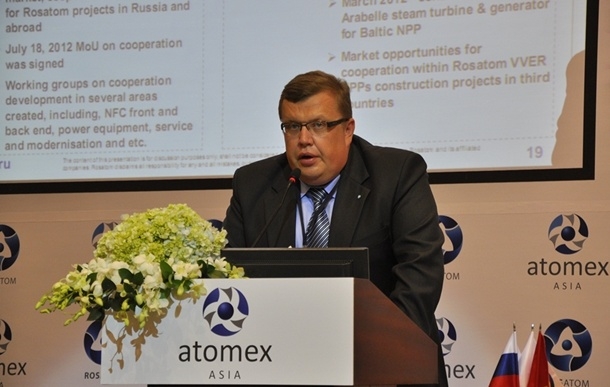 Mr. Nikolay Drozdov.
The feasibility study of the Ninh Thuan 1 nuclear power plant was handed over by Rosatom, the holding company of ASE, which will act as the general contractor of the project, to Electricity of Vietnam (EVN), the Vietnamese investor, in October 2014.
According to Nikolay Drozdov, international business director of Rosatom, the group, which has nuclear power plant projects being implemented in India and China, thinks the localization ratio of Ninh Thuan 1 could be up to 40 percent.
This means that 40 percent of the works and materials needed for the plant will be fulfilled by Vietnamese.
The senior executive said Vietnamese sub-contractors can provide materials and join the construction.
"Rosatom will examine the capability of Vietnamese enterprises," he said. "We will hire Vietnamese contractors which have experience in building hydropower and thermal power plants, or chemical plants."
Tran Chi Thanh, head of Vinatom, the Vietnam Atomic Energy Institute, said that 40 percent localization ratio is "completely within reach".
Thanh confirmed that Rosatom has shown the feasibility study for Ninh Thuan 1, which will be forwarded to the Bureau of Radiation and Nuclear Safety for evaluation. It would take one year to fulfill the evaluation process.
Nikolay Drozdov said Rosatom will not only act as the major contractor of the two power generation units at Ninh Thuan 1, but also as the supplier of long term materials for the plant.
It will also recollect used materials from the plant, train workers, help develop the power network and generate jobs in the plant's area.
It is estimated that 340 Vietnamese students are following training courses on nuclear power in Russia. About 150 Vietnamese workers are now working at the Rostov nuclear power plant site in Russia.
Russia has promised to help train 70 Vietnamese students in nuclear power major every year.
ASE of Rosatom and Vinatom have signed an agreement on the Center for Nuclear Technology and Research establishment.
Vinatom has suggested three places for the center, in Da Lat City, Dong Nai and Ninh Thuan provinces. The Russian side will choose to set up a nuclear reactor with the capacity of 15 MW in one of three places. There will also be a complex of laboratories and facilities for labor force training.
The project is estimated to cost $500 million which will be lent by the Russian side.
In November 2009, the National Assembly approved a plan on building Ninh Thuan Nuclear Power Plants. The government later assigned EVN to act as the investor of the Ninh Thuan 1 and Ninh Thuan 2 projects, each of which comprises two 1,000 MW reactors.
Dat Viet