VietNamNet Bridge – Vietnamese Apple fans have been able to purchase iPhone 6 and iPhone 6 Plus smartphones, just two weeks after the products hit the market.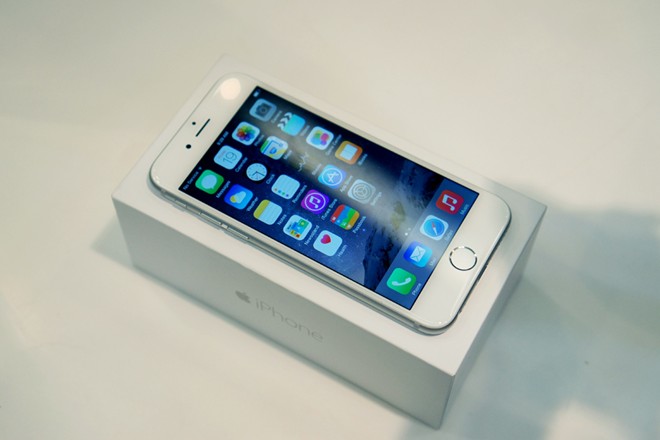 However, the products were brought to Vietnam through unofficial channels, either by foreign travelers to Vietnam or Vietnamese individuals for domestic sale. The product from authorised sources will be available in November.
Buyers have been looking for the locked-version products, despite high prices of VND15-16.5 million for products sourced from the US and VND14-14.5 million from Japan for iPhone 6 and VND18 million for iPhone 6 Plus.
Hoang Trung Thanh, the salesman of a mobile phone shop in Hanoi, said the locked iPhone 6 and iPhone 6 Plus now available in the market are from two main markets, the US and Japan.
Thanh said the products sourced from the US were always more expensive, because of the high price of the code to unlock iPhone 6 in the US, about $90, or VND2 million.
Meanwhile, those who buy the products sourced from Japan have to unlock the phones with the heicard nano-sim, because it is still impossible to do this with normal code.
According to Thanh, consumers have to spend VND1.7-2.5 million to unlock an iPhone 6 with code.
Tuan, the owner of a shop providing unlock and jailbreak services, said the heicard nano-sims to unlock iPhone 6 were available in the domestic market last week. The presence of the key has encouraged traders to bring more locked-versions iPhone 6 to Vietnam.
According to Tuan, this nano-sim card can be bought for only VND300,000. If someone buys a Japan-sourced iPhone 6, either from Docomo or Softbank, the expense would be VND15 million only.
However, if they buy the international version, they will have to pay VND18 million.
He went on to say that the latest-generation nano-sims are made with high technology, so they can fix most of the problems in locked versions. Locked products are safer and cheaper.
"Once the jailbreak version for iOS 8 comes out, the users can download the software which can completely fix the problems of the locked version. So the locked version will be nearly the same as the international version," he said.
Observers say there are more iPhone 6 devices than iPhone 6 Plus devices because dealers thought the iPhone 6 Plus was too expensive and would not sell well in Vietnam. Vietnamese also prefer 64GB and 128GB to 16GB versions.
One year ago, when Apple launched the iPhone 5S, Vietnamese had to wait for a long time to be able to buy the products. Only in December 2013 did the mobile network operators loosen regulations on selling the code to unlock the iPhone 5S. The nano-sim finally began running well on iOS 7 that month also.
Mai Thanh