VietNamNet Bridge – Vietnam's agriculture sector management officials are claiming that the production of genetically-modified crops should be banned in the country.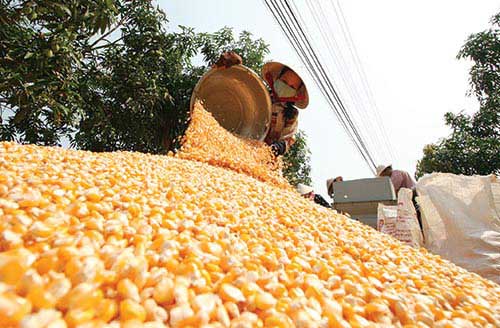 GM crop production will be officially allowed in Vietnam by 2015, with maize, beans and cotton as the focus products
Deputy Minister of Planning and Investment Dang Huy Dong last week said the ministry had worked with the Ministry of Agriculture and Rural Development about genetically-modified (GM) production in Vietnam. "We will ban GM animal production and will likely allow GM crop production in the new Law on Investment," he said.
An official from the Ministry of Agriculture and Rural Development's (MARD) Department of Crop Production told VIR that GM crop production should not be banned in Vietnam.
The official, who declined to be named, said the ban on GM crop production in Vietnam was unreasonable, as it would go against Decree 69/2010/ND-CP, passed on June 21, 2010, on bio-safety for GM organisms and the National Assembly Standing Committee's Seed Ordinance 15/2004/PL-UBTVQH11. These two documents outlined the development of GM crops in Vietnam.
According to the MPI, GM crop production was proposed to be included in the draft amendment to the list of eight sectors banned from business and investment in Vietnam, outlined in the draft new Law on Investment, which is expected to be adopted this November.
"GM crops are hugely advantageous to farmers and enterprises," the official said.
Agricultural management authorities in some provinces where the agriculture sector plays an important role in the local socio-economic development have also suggested GM crops be removed from the banned list.
Le Muon, deputy director of the south central province of Quang Nam's Department of Agriculture and Rural Development (DARD) told VIR that GM crop production should be allowed in Vietnam.
"If it is allowed, Vietnam will see a highly competitive hybrid corn market," he said.
Farmers are now using some cross-bred strains produced by local firms that hold a monopoly on these strains. If GM strains are allowed to be produced in Vietnam, farmers will have more choice, and accordingly strain producers will have to engage in more fierce competition, he explained.
"GM crops can resist wild grass and pests. They will help farmers save production and labour costs, as they are 20 per cent cheaper than locally-made products," he added.
Nguyen Thi Kieu, director of the Mekong Delta city of Can Tho's DARD, also told VIR that GM crops could resist pests and viruses and provide high productivity. Meanwhile, current varieties do not have such advantages, so farmers have to use pesticides that can harm the environment and health.
According to Tran Hung Hien, director of the southern province of Tra Vinh's DARD, Vietnam should quickly allow GM crop production.
"We shouldn't ban them, but we have to manage them closely. The government should have a mechanism for such management," he told VIR.
Low domestic maize output and quality, and high production costs, have prompted firms to import products for cheaper prices in recent years. These products include many GM materials for making animal feed, experts have said.
Vietnam spent around $600 million importing 2.33 million tonnes of maize in the first half of this year. It is expected that the country will import over 4.5 million tonnes of maize, worth more than $1 billion, within this year.
"Therefore there is no reason we should ban GM crop production in Vietnam. GM crops are widely being produced in many nations," Muon said.
Early this month the Ministry of Agriculture and Rural Development (MARD) granted licences to four GM maize varieties, including Bt11 and MIR162 which were developed by Syngenta Vietnam Co., Ltd, as well as MON 89034 and NK603 by Dekalb Vietnam Co., Ltd. The MARD granted certifications to these four GM maize varieties after careful consideration and submitting them to the country's Council of Food Safety for GM Food and Animal Feed for consideration. The licensing agencies said the products had no harmful effects on health.
Currently the MARD and Ministry of Natural Resources and Environment are co-operating to allow the official production of GM crops in Vietnam by 2015, with maize, beans and cotton as the focus products.
VIR/VNN