VietNamNet Bridge - Deputy Minister of Finance Pham Sy Danh has approved FPT Information System (FPT IS)  to provide information equipment and services for personal income tax (PIT) management application infrastructure worth approximately VND260 billion ($13 million).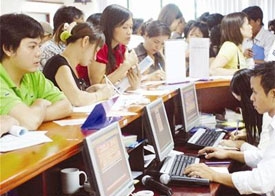 In this project, FPT IS will construct technological infrastructure including hardware components, software and system administrative services for the PIT management application. The system will be used by 7,000 people in 800 locations of 770 tax offices to manage 15 million taxpayers across the nation.
The PIT management system is the first centralised processing system of the General Department of Taxation. The system will be powerful, highly responsive and reliable to meet specific requirements of the taxation. It comprises an operating centre and a backup and disaster prevention centre built on technological platforms provided by world's leading vendors such as IBM, SAP, Oracle, Cisco, Checkpoint and F5 and, most notably, a system of 46 state-of-the-art IBM power servers.
Ngo Tuan Khiem, senior consultant of FPT I, said: "This is the largest centralised system ever built for a governmental agency in Vietnam. I think this system is very complicated especially how to combine diversified technologies into a unified system. Once coming into use, it will be the largest SAP-based tax management system in the world."
In December 2008, FPT also launched the PIT management system. It is the largest software project invested in Vietnam, which is valued at more than $15 million. FPT IS is the primary contractor for the project with three sub-contractors namely SAP, Accenture and Ernst&Young.
In December 2010, after core functionalities had been completed, the project team introduced the PIT management system. To date, the project has been piloted in tax offices in Bac Ninh, Bac Giang, Hanoi, Dong Nai and Binh Duong and will be implemented widely in other provinces and cities.
Recently, there have been more than 14 million people receiving PIT codes.
Source: VIR