VietNamNet Bridge - Instead of conducting surgery on the injured nerve of the left leg of a 37-year-old patient, doctors of the Vietnam-Germany Hospital in Hanoi operated on the right leg.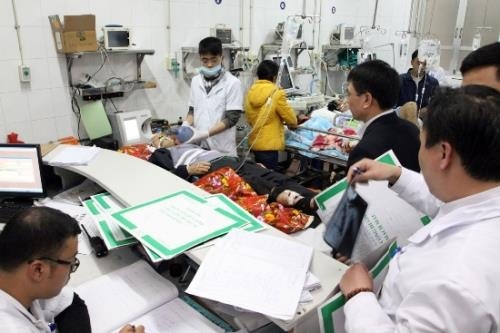 Viet Duc Hospital is considered a top hospital of Vietnam which could deal with complicated medical treatment and surgeries.
The patient who suffered from the surgical mistake was a 37-year-old man from Ung Hoa District, Hanoi.
The patient was diagnosed with nerve damage to the left leg. Last year he underwent
surgery on the right femur.
This time doctors would have to operate on the left leg to split the rear tibia and take it to the anterior tibia to support movement of this muscle.
Hours before the surgery, when the patient was awake, he was startled that the operation had been performed on the wrong leg. He told doctors, who realized their mistake.
However, as reported by the patient's family, the surgeons asked the family to pay more money for the second operation on the right leg, which angered the family.
The hospital's deputy director – Dr. Tran Binh Giang – asked the doctors to explain the case. Giang said the case would be clarified on the basis of reports from the doctors and the patient.
Giang also said that the major surgeon offered an apology to the patient and confirmed that the hospital would conduct the second operation for free and take care of the patient after the operation.
Le Ha