VietNamNet Bridge - After four decades, a 4cm long bullet that almost killed a woman in the southern province of Kien Giang has been removed.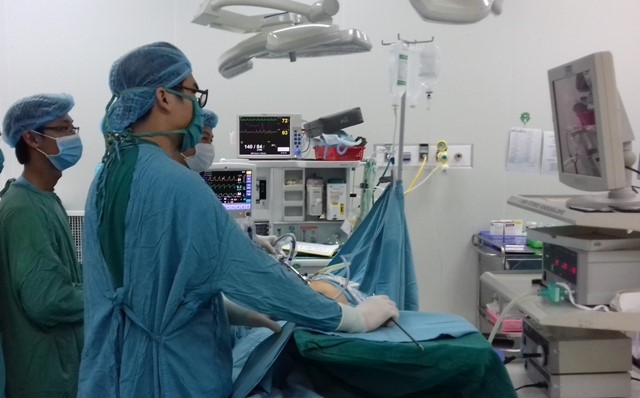 On June 29 doctors of the Can Tho General Hospital in Can Tho City removed a bullet from the body of Ms. Nguyen Thi, 67 years old, from Kien Hai district, Kien Giang.
According to Thi's family, before 1975, during the Vietnam War, Thi was sweeping her home yard when she was hit by a bullet to the left chest.
Thi was brought to a hospital for treatment but doctors said she was dead. The family took her home to hold a  funeral. On the way home, she breathed again so she was taken back to the hospital.
Doctors performed resuscitation and sewed up the wound. Since then, Thi frequently has felt chest pain, which made her very uncomfortable.
The family has taken her to more than 10 hospitals but all doctors said the bullet was deep inside her chest and it could not be taken out.
About 10 years ago, doctors checked and did not see the bullet in her left chest. This time, Thi often felt hurt in the abdomen and pelvis.
A few days ago, Thi suffered from severe pelvic pain and she could not walk. The family took her to Can Tho General Hospital. Doctors performed an ultrasound test and found an abdominal abscess.
X-rays and 3D scans revealed the bullet in the left iliac fossa. Doctors conducted laparoscopic surgery to take the bullet out to save the patient.
The warhead is rusty and 1 × 4 cm in size. After the successful surgery, the patient's health is gradually stabilizing.
Linh Nhat