VietNamNet Bridge – Hornet is the most aggressive in the bee family and most people would avoid it whenever it is around. But for Vo Anh Ngoc, commonly known as Tam Loc by his neighbors in Phuoc Ninh Commune, Duong Minh Chau District, Tay Ninh Province, catching this bee species has been a job and a hobby as well for more than 30 years.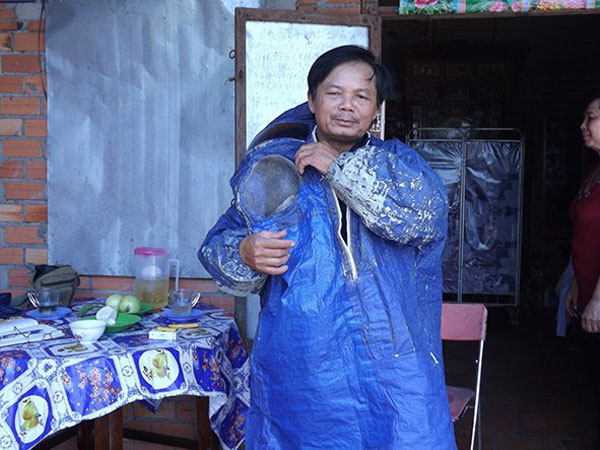 Ngoc is in his protective clothing
Starting the job at the age of 20, the 53-year-old says he did not have the intention to earn money from catching bees at first. Now he does not remember when it became his job.
Ngoc has made it to almost all forests in the country's south, and even in the Central Highlands. Whenever he hears there are hornet nests or those of other types of wild bees, he would set forward.
But for the past three years, his age has prevented Ngoc from traveling far from home for weeks and climbing high trees.
In the first years of hunting for bees, Ngoc did not have much experience, so he could not track bees to find their nests. Sometimes, he returned home without getting a single bee but such difficulties did not discourage him. Over time, he has gained a lot of bee hunting experience.
Today, when looking at a flying bee, Ngoc can tell exactly where its nest is. "Coming out from their nest, bees fly downwind. Coming back home, they fly upwind and when they are about to reach their home, they will suddenly take a dive," he says.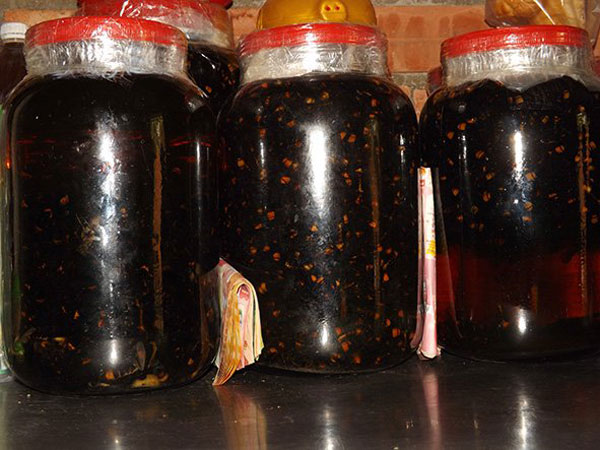 Hornets are infused in alcohol 
Apart from hornet, Ngoc also catches other types of bee such as honey bee and scoliid wasps.
He can locate the area where each type of bee places their nest in dry and rainy seasons as well as tell the characteristics of each type. He can even guess how many bees there are in a beehive by just looking at several bees going to find nectar together.
In order to catch bees, Ngoc prepares a net bag, gloves, and protective clothing.
After being caught, bees must be sold quickly or they would die. A hornet costs VND1,000 (4.6 U.S. cents) in Tay Ninh but VND2,000-2,500 when sold in HCMC, while honey of wild bee costs VND500,000 per liter.
Sometimes he can earn up to VND1 million a day but on certain days, he gets no penny.
When he found no buyers of the bees caught, he would infuse the bees in alcohol. According to a traditional recipe, for every 1,200 bees, four liters of alcohol would be needed to infuse them and after 100 days it could be used to treat muscle pains by applying the alcohol to the pain area.
Especially, young bees can be processed into certain specialties at restaurants. It can be cooked with rice porridge. Normally, Ngoc sells young hornet for VND400,000-500,000 per kilo and young scoliid wasps for VND1.2-1.3 million per kilo.
Despite the hard work which requires him to travel far from home and face the aggressive bees, Ngoc says he will keep doing the job for five to seven more years as he cannot stay home for a long time without missing the hazardous moments of hunting for bees.
Thuc Doan
SGT