VietNamNet Bridge – Mr. Thai Ngoc, 75, in the central province of Quang Nam, has not slept in 45 years. Many TV channels with modern devices have kept track of Ngoc for a long time and they all record that Ngoc has not slept.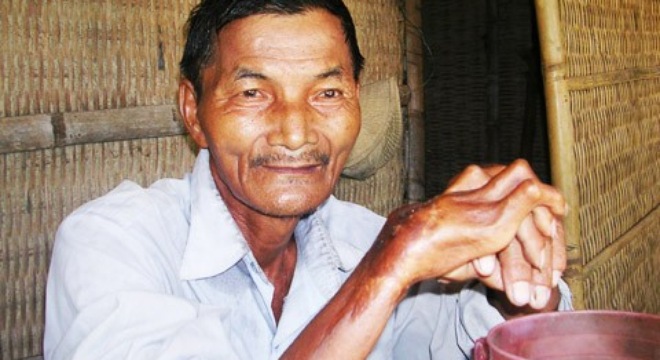 The sleepless man - Thai Ngoc.

The man lives with his wife on a farm in Na Trang valley in Trung Phuoc commune, Que Son district.
Dr. Nguyen Gia Thieu, Director of the Psychiatric Hospital of Quang Nam Province, said that Ngoc's sleeplessness is strange but not dangerous. He further explained that this phenomenon is mainly caused by problems with the nervous system.
Thai Ngoc has six children. He currently lives with his wife and son Thai Thang.
The first impression when we met Thai Ngoc was his skin color and his eyes. His skin is dark, the healthy shiny black of black brass on hard muscles, which were desiccated due to old age.
During the conversation, we did not see Ngoc blink his eyes. His eyes were big, deep, bright, black and more innocent than normal. There was no distress or tiredness in the eyes of the 75-year-old man.
Thai Ngoc said the insomnia began when he was 20 years old and ten years later he became sleepless. Because of insomnia, he works at night.
His main source of income comes from brewing wine. He processes about 5 litres of alcohol/day, selling for VND25,000 ($1.2). However, he refused thousands of US dollars offered by foreign TV channels to film his daily life, just because he "did not like" it.
He also turned down a Thai film-crew's invitation to go to Thailand for treatment because he did not think that his insomnia needed a cure.
He has never seen a doctor about his insomnia.
At the age of 75, every day Thai Ngoc carries two heavy loads of firewood from a nearby hill to his home.
Hang Nga