The first-ever Vietnam International Fashion Week ended after five formal nights (Dec. 1-5). The organizers – Multimedia Company – invited Singapore's FIDE Fashion Week experts to be advisors. This thorough and professional investment brought a new aspect for the event compared to the previous fashion weeks in Vietnam.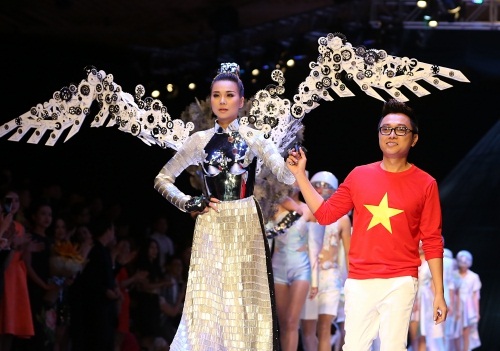 Following the proper standards of international fashion industry, the event can be seen as a "weird food" for those who have a habit of going to fashion shows to see "long-legged girls" rather than clothes.
HCM City's designer Cong Tri introduced his Haute Couture collection named No. 8 to open the event on December 1.
The week also featured creations by international designers, including Zio Song from South Korea, Italian designer Antonio Grimaldi, Frederick Lee from Singapore, Somarta from Japan, and Tsolo Munkhuu from Mongolia and international brands like On Aura Tout Vu, Defined Moment and Atelier Chardon Savard from France, and Thai brand ISSUE.
Local fashion talents introducing their designs at the event were Adrian Anh Tuan, Chung Thanh Phong, Hoang Hai, Hoang Minh Ha, Ly Giam Tien, Le Thanh Hoa, and Li Lam.
A menswear collection by Korean designer Zio Song wrapped up the show which was broadcasted live on VTV3 at 8 p.m. on December 6.
The articles about the event on VietNamNet Bridge:
VNNB