VietNamNet Bridge – Viet Nam has closely co-operated with countries in the Gulf of Thailand in navigation security, the commander of Viet Nam Marine Police, Major General Nguyen Quang Dam said.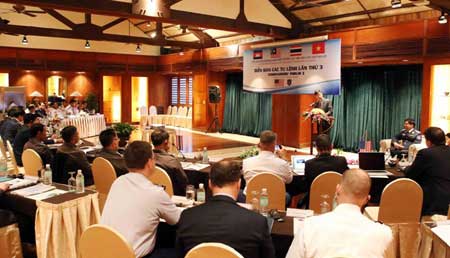 The opening ceremony of the third annual Commander's Forum – Gulf of Thailand Maritime Enforcement Interoperability Initiative yesterday.
He was speaking at the opening ceremony of the third annual Commander's Forum – Gulf of Thailand Maritime Enforcement Interoperability Initiative yesterday, Jan 14.
The four-day forum, which has drawn the participation of member countries including Thailand, Malaysia, Cambodia and Viet Nam, will review the law enforcement in marine security, rescue, human and drug trafficking, smuggling, violated fishing, pirate and armed robbery against vessels among countries over past years.
"It's a chance for us exchanging experience and discussions in dealing with major marine problems including smuggling, human trafficking, illegal immigration, fish poaching," Dam said.
"The forum will also set on challenges of marine security and safety as well as humanitarian treatment on violated fishing among fishermen from each country," he said.
Dam stressed that Viet Nam gradually plays an important role in managing security, order and safety condition in the ocean in compliance of Viet Nam's and international law and regulations.
The forum also eyes on the participation of Indonesia as an observer.
The commander of Viet Nam Marine Police had secured a peaceful year for fishermen in the ocean when the country had not seen any pirate or armed robbery against vessels.
Speaking at the event, the US Consulate General in HCM City, Rena Bitter said maritime security in the region hinges on cooperation between the countries.
"The rapid development of Southeast Asia's economies highlights the importance of freedom of navigation, commercial waterways, responsible law enforcement, and multilateral cooperation. The livelihoods of millions throughout this region depend on the ocean. As maritime activity grows – by container ships, passenger ferries, and fishing vessels – so does the promise of greater connectivity and prosperity in the region. But it also raises the risks of accidents and for criminal activities," she said.
"These maritime law enforcement challenges will only increase over time which is why maritime law enforcement cooperation is critical to achieve our shared goals of fighting the trafficking of persons, building capacity to carry out humanitarian assistance and disaster relief operations, combating illegal fishing, and maintaining the territorial integrity of nations," she said.
Rena Bitter also said co-operation among Southeast Asian nations – like today's forum – is key to maintaining and promoting a more secure and stable environment that enables sustained peace and prosperity for all.
Last year, a multilateral training course opened in Viet Nam's northern port city of Hai Phong to improve law enforcement capacities and co-ordination at sea for visitors from the four Gulf of Thailand countries (Viet Nam, Thailand, Malaysia and Cambodia).
Viet Nam Marine Police has been equipped multipurpose patrol boats to help improving patrol ability and effect, rescue and aid and the country's sea and island sovereignty protection.
Source: VNS