VietNamNet Bridge – Viet Nam attached great importance to its defence co-operation with France as the two countries had made important developments in exchanging delegations, military training, army medicine and the defence industry.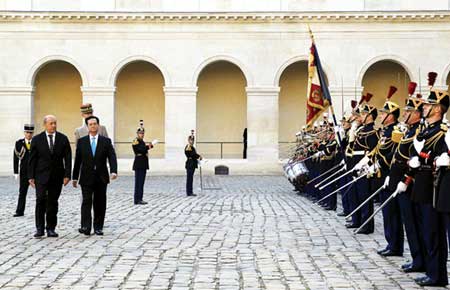 Prime Minister Nguyen Tan Dung inspects a guard of honour yesterday, Sept 24, during his visit to France.
Dung suggested the two sides increase information exchanges and discussions between their strategic research agencies and enhance co-operation in training military personnel. He also asked the French to support Viet Nam in preparing for United Nations' peace-keeping activities.
Minister Le Drain said he was pleased at the development of the Viet Nam-France relationship and said he believed that the elevation of bilateral ties to strategic partnership would open new opportunities for co-operation in the defence sector.
He said that France was ready to help Viet Nam take part in peace-keeping activities and would assist in personnel training and the transferal of military technology.
Talking to the National Secretary of the French Communist Party, Pierre Laurent, Dung said that the elevation of ties was the fruit of traditional solidarity and friendship, and special co-operation between the two parties.
He thanked the French Party and people for valuable support during Viet Nam's struggle for national liberation in the past.
Laurent said he hoped the ties between the two parties would be tightened through exchanges of research delegations and sharing experiences of Party building.
In a meeting with France-Viet Nam Society Secretary Patrice Jorland, Dung said he appreciated the assistance of the association and the contribution of the secretary to his country's development.
He said the France-Viet Nam Society (FVS) was an information sharing channel that bolstered mutual trust and understanding between the two people.
The FVS is helping Viet Nam by extending its support to Agent Orange/dioxin victims. It also supports the country in dealing with sustainable development issues, poverty reduction and industrialisation.
Work harder
At an inauguration ceremony at the new Vietnamese embassy headquarters, Dung asked the embassy and other diplomatic missions in France to work harder to strengthen Vietnam-France relations, which he said were developing well.
He said both countries had maintained exchanges of high-level visits and co-operation at regional and international forums, and France considered Viet Nam one of its key partners in the Asia-Pacific region.
Bilateral co-operation mechanisms had proved successful, and the two countries' leaders felt it's time to upgrade their bilateral relationship to a strategic partnership in order to deepen co-operation, said Dung.
He said despite its limited financial capacity, Viet Nam wanted to upgrade its diplomatic missions in France, testifying to its desire to boost co-operation with the EU nation.
He asked Vietnamese expatriates in France to unite, provide mutual support for one another, preserve their national cultural identity and help bridge friendship between the two nations.
Dung also laid a wreath at the President Ho Chi Minh Monument and visited Ho Chi Minh Space at Montreau Park in Montreuil.
Source: VNS