VietNamNet Bridge – The General died at 2.30pm on August 19 at Military Hospital175. The memorial service will be held on August 23 at the funeral home of the Ministry of Defense in Ho Chi Minh City. He will be buried at the HCM City Cemetery in Thu Duc District on August 24.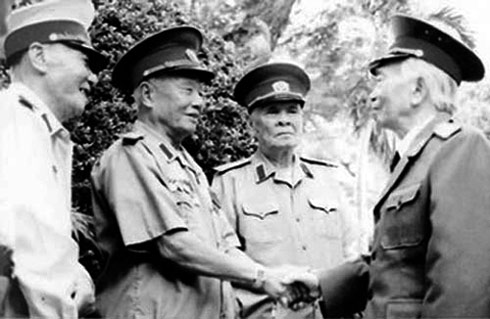 Lieutenant General Hoang Cam and General Vo Nguyen Giap.
Senior Lieutenant General Hoang Cam (Do Van Cam as name at birth), was born in 1920, in Son Cong commune, Ung Hoa district, Ha Tay province (now Hanoi). He was a member of the Central Party Committee of the IV, V, VI, VII terms, National Assembly deputy of the VII term, former commander and political commissar of Corps 4, commander of Military Region 4, the Army General Inspector.
He joined the revolution in 1945, as a soldier of the Hanoi Liberation Army. In August 1945, he joined the army and in February 1947 he became a member of the Indochina Communist Party (now the Vietnam Communist Party).
From October 1945 to November 1946 he was a squad leader, platoon vice leader and platoon leader of Regiment 97. From December 1946 to February 1947 he was the company leader and political commissar of Son La Company 120.
From March 1947 to August 1954, he was the political commissar of Company 590, Battalion 18 in the Laos – Vietnam border, leader of Company 250, Regiment97, Deputy Chief of Battalion 90, Deputy Chief and Chief of Battalion 130, Deputy Chief and Chief of Regiment 209, Division 312.
From September 1954 to August 1972 he held the position of: Chief of Staff, Chief of Division 312; a student at the Beijing Military Academy, Chief of Division 9, Deputy Chief of Staff, Chief of Staff of the Region Command.
From September 1972 to December 1974 he was the Commander of Group 301, B2. From December 1975 to February 1977 he was the Commander of Corp 4. From March 1977 to January 1981 he was the Commander cum Political Commissar of Corp. 4. From February 1982 to March 1982 he was the Deputy Commander of Vietnam army in Cambodia. From April 1982 to August 1987 he was the commander of Military Region 4.
In September 1987, he was appointed as the Army Inspector General (now the Chief Inspector of the Ministry of Defense).
He was appointed the rank of Lieutenant Colonel in August 1958, promoted to Colonel in 1960, Major General in 1974, Lieutenant-General in 1980, and Senior Lieutenant-General in 1984. In November 1992 he retired.
Senior Lieutenant General Hoang Cam was presented with the State Medal of Ho Chi Minh and many other honors.
TTXVN