VietNamNet Bridge – Same-sex marriage received much attention at the conference to review the implementation of the Law on Marriage and Family, organized by the Ministry of Justice on April 16.
Ministry Health proposes same-sex approval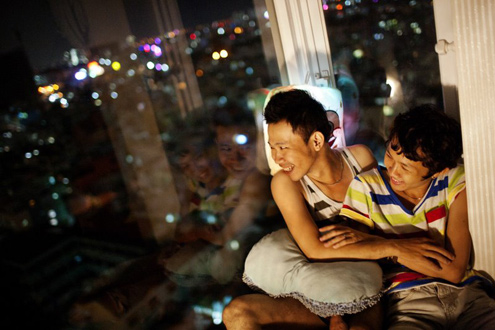 A gay couple, photo by Maika.
The report of the Ministry of Justice pointed out that the law of Vietnam does not have clear rules on the protection of the rights of homosexuals. On the other hand, Clause 5, Article 10 of the Law on Marriage and Family stipulates ban on gay marriage, which can create social prejudice.
However, the recognition of same-sex marriage is not yet appropriate in Vietnam, coming from practice, family culture of Vietnam.
A plan for "neutralization" was suggested by the Ministry of Justice: not prohibiting but not recognizing same-sex marriage. Besides, the rights and obligations between the parties in relations like husband and wife will be legalized.
Relating to surrogacy, the Law on Marriage and Family 2000 does not specify this issue. Meanwhile, the government decree that prohibits surrogacy has restricted the legitimate desire of many families of infertility.
"It is needed to have additional regulations allowing surrogacy for humanitarian purposes, prohibiting surrogacy for commercial purposes," said Mr. Le Huu The, Vice chief of the Supreme People's Procuracy. In order to prevent dodge of law, The suggested to specify the cases of surrogacy right in the law.
Attendants also pointed out the need to tightly regulate legal agreement concerning surrogacy issues. For example: determining the parents of the child; the duty to raise, support the child; who the child belongs to in case of disputes, etc. ...
At the meeting, many participants proposed to add the provisions on judicial separation into the Law on Marriage and Family. Currently, the lack of provisions on legal separation has caused consequences and troubles in marital relations.
My Hoa