VietNamNet Bridge - After calculating the expenses, the Ministry of Finance is expected to arrange about VND20.7 trillion ($1.03 billion) to increase the minimum wage from the current VND1.05 million ($50) to VND1.15 million ($55) from July 2013.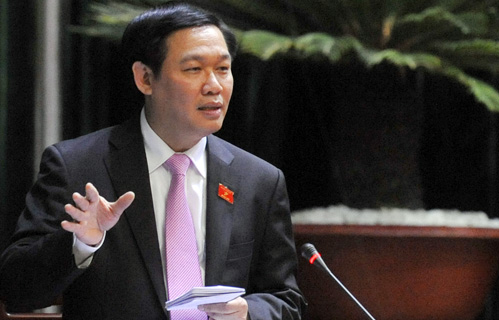 Minister of Finance Vuong Dinh Hue.
The speech by Minister of Finance Vuong Dinh Hue at the National Assembly yesterday morning, October 31, brought about a new message on the adjustment of the minimum wage, after the government repeatedly proposed to postpone the pay rise for being unable to allocate VND60 trillion (around $3 billion) for 2013.
The Finance Minister said after recalculating the budget balance, cutting expenses, including capital expenditure, the Government decided to keep raising the salary in 2013. However, the rise will be lower than being previously expected.
Specifically, the minimum wage of about 8.3 million workers, pensioners and those who benefit from the social welfare policy will be increased by about VND100,000 ($5), from the current level of VND1.05 million. The time of application is July 1, 2013.
According to the Ministry of Finance, to implement the pay rise in the last six months of 2013, the budget will need an additional VND20.7 trillion ($1.03 billion). "Because of the estimated revenues are already at a very high level so the Government will have to restructure its spending," Minister Vuong Dinh Hue said.
In particular, investment spending will fall by VND10 trillion ($500 million), to about VND170 trillion ($8.5 billion). The government is also expected to issue VND55 - 60 trillion ($2.7-3 billion) of government bonds in 2013. In addition, the central budget will have to save an additional 10 percent from the regular spending.
"This is the most positive and optimistic plan. The Government understands that this adjustment is the desire of all wage earners, including me, personally," Hue added.
In accordance with the approved schedule, the minimum wages of civil servants and employees of state enterprises will increase to VND1.3 million from May 1, 2013. According to the Ministry of Finance, to do this, the government must have VND60 – 65 trillion ($3-3.2 billion). "This is beyond the ability to balance the budget," Minister Hue said.
In the speech at the congress in the afternoon of October 30, Minister of Planning and Investment Bui Quang Vinh also admitted that to raise wage, the government is likely to cut public investment in 2013.
The Government for the first time presented the ability to back up pay raises at the meeting of the National Assembly Standing Committee on October 16 and formally included that content in its report at the fourth session of the National Assembly (opened on October 22).
Le Nhung