VietNamNet Bridge – The Ministry of Labour, Invalids and Social Affairs last week proposed the government to add another minimum wage applied from next year.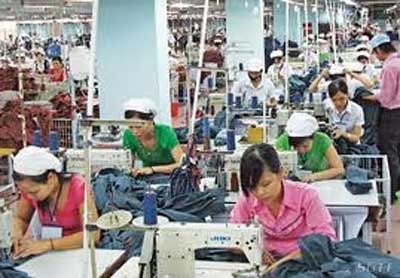 The two options being available for the government approval were tabled by the ministry in August.
According to Tong Thi Minh, head of the ministry's Department of Labour-Salary, the third option was to relieve enterprises' difficulties in the context of economic woes, through surveying and collecting opinions from localities and enterprises.
The third minimum wage plan applied in all enterprises for Zone 1, since January 1 2013, would be VND2.4 million ($115.4) per month, equaling a rise of 26 per cent compared with the previous scheme.
Specifically, the first option will be VND2.7 million ($129.6), VND2.4 million ($115.2), VND2.13 million ($102.2) and VND1.93 million ($92.6) for zones 1, 2, 3 and 4, respectively equal to a nearly 35 per cent jump.
Meanwhile, in the other proposed plan, the figures for zones 1, 2, 3 and 4 will be VND2.5 million ($120), VND2.25 million ($108), VND1.95 million ($93.6) and VND1.8 million ($86.4) per month, respectively or an increase of 31 per cent.
According to a survey conducted by Vietnam General Confederation of Labour in 2011, the workers' minimum living standards within the four zones 1-4 were VND3.04 million ($145.9), VND2.86 million ($137.3), VND2.66 million ($127.7) and VND2.47 million ($118.5), respectively.
Over the past 20 years, the minimum wage had never met the minimum living standard, said Dang Quang Dieu, chief of Institute of Labour Research, under Vietnam General Confederation of Labour.
VietNamNet/VIR