New Zealand Trade Ministry promotes partnerships with VN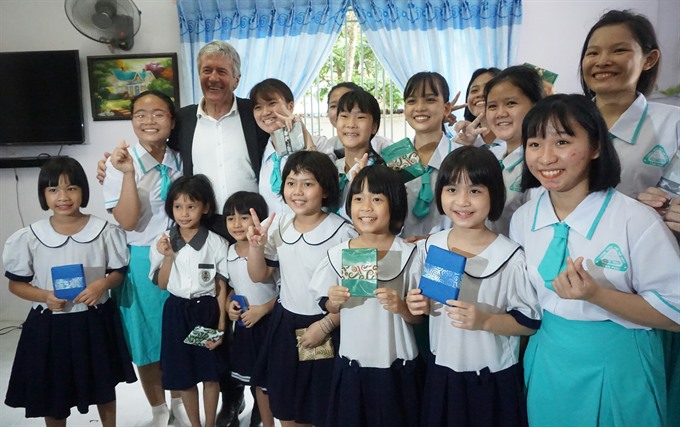 New Zealand's Minister of State for Trade and Export Growth, Damien O'Connor, takes a photo with girls staying at the Bà Chiểu Shelter in HCM City. 
at the Bà Chiểu Girls Shelter in HCM City as part of his visit to Việt Nam from August 27-29.
During his trip, O'Connor will further political links with Vietnamese representatives in HCM City, and then travel to Hà Nội to meet with his counterparts.
At the Bà Chiểu Shelter, O'Connor said that it was his first time to Việt Nam.
"We have a number of Vietnamese students in New Zealand, studying at universities and involved in other training such as how to fly aircraft," he said.
He told the girls living in the shelter that they were welcome to study in New Zealand.
He announced that the New Zealand Head of Mission Fund worth NZD$25,000 (US$20,000) would be presented to the shelter to maintain its operation and development.
"We are very proud to be working in Việt Nam to help farmers grow more food and improve the systems they use to deliver food," he said.
Established in 1996, Bà Chiểu  has raised more than 200 disadvantaged girls who also receive a good education. The shelter is now taking care of 22 school-age girls.
This year marks the 43rd anniversary of the establishment of diplomatic relations between Việt Nam and New Zealand.
In the last four decades, the relationship has grown in many areas and both countries are on the right track to grow from a comprehensive partnership to a strategic one. 
Both countries are among each other's top 20 trading partners, with bilateral trade growing by nearly 260 per cent since 2009, when the ASEAN-Australia- New Zealand Free Trade Agreement (AANZFTA) was signed. 
New Zealand is among the most committed official development assistance (ODA) donor countries to Việt Nam, and accounts for a growing number of overseas Vietnamese students. 
Resolution to improve construction investment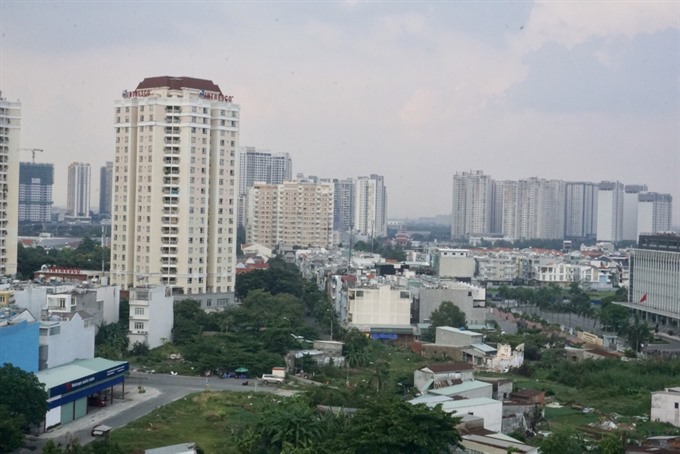 The Government has asked the Ministry of Planning and Investment to take steps to increase the effectiveness of medium and long-term public investment plans. Photo taken in HCM City. 
The Government has issued a resolution assigning major tasks for ministries and local authorities and asking them to identify solutions to obstacles relating to policies and investment schemes in the construction sector.
The resolution, issued on Saturday, sets as the first task the completion of a legal system on construction investment ensuring consistency, synchronisation, reform of administrative procedures, simplification of business investment conditions and timely removal of barriers and obstacles in the sector.
The Government has ordered related ministries and central agencies to take the initiative in reviewing and proposing amendments and the promulgation of new legal documents to ensure uniformed implementation.
It urged the intensification of State management in all processes of construction project implementation and even the timing of its opening.
At the same time, the resolution said, the ministries and central agencies should quickly solve problems relating to all aspects of project construction investment, especially those related to administrative procedures and business investment conditions.
In the immediate time, the Ministry of Construction will continue studying and elaborating on the amendment and supplement of laws on construction, housing, the real estate business and urban planning.
The ministry was also assigned to undertake reforms and simplification of administrative procedures as well as conditions for business investment to create favourable conditions for all people and business enterprises.
The result of such works should be submitted to the National Assembly at the 7th Session in mid 2019, said the resolution.
Meanwhile, the Ministry of Planning and Investment was assigned to co-ordinate with other related ministries and agencies in completing the draft revised Law on Public Investment in a direction that helps simplify administrative procedures, enhance decentralisation and take the initiative in formulating, appraising and assigning medium and long-term public investment plans to increase effectiveness.
The resolution said the ministry should report the results of such works to the National Assembly at its 6th session in October this year.
The Ministry of Natural Resources and Environment (MoNRE) was assigned to co-ordinate with other related ministries and agencies in drafting the amendment and supplement for the revised Laws on Land. It should also take measures to improve business conditions and boost administrative reforms.
All results should be reported to the Government in the first quarter of 2019.
The Government also ordered the MoNRE to propose amendments and supplements to the Law on Environmental Protection to increase the effectiveness of environmental assessment reports. In particular, policies establishing the procedures for project evaluation and appraising construction design are to be upgraded. 
PM orders ministries to ensure road traffic safety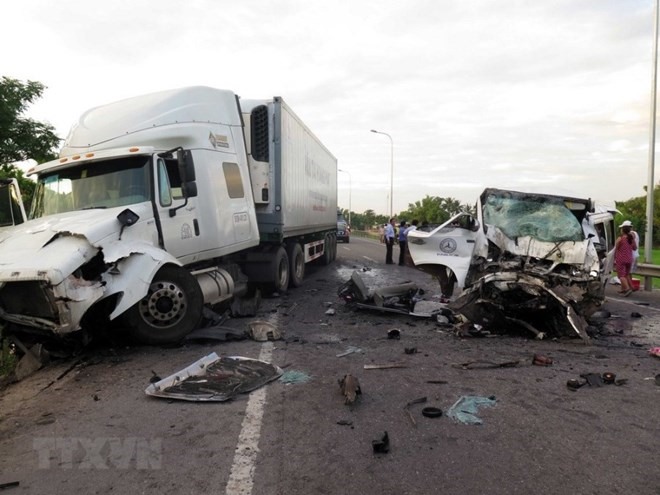 The scene of a traffic accident in the central province of Quảng Nam in late July.
Prime Minister Nguyễn Xuân Phúc has issued a directive ordering the Ministry of Public Security, Ministry of Transport and relevant agencies to take urgent actions to ensure road traffic safety.
The move came after a range of fatal traffic accidents recently, especially accidents related to transporting passengers by coach or bus, causing serious damage to people and property.
Drivers violating regulations on traffic safety, including speeding or running substandard vehicles for transporting passengers, were blamed as major causes of the accidents, he said.
A traffic accident occurred in the northern mountainous province of Cao Bằng in July 22 when a coach suddenly plunged into an abyss, reportedly killing four people and injuring 16 others. Another example was an accident in the central province of Quảng Nam in July 30 when a 16-seater coach crashed into a container truck, killing 13 people and injuring four others.
The common point of the two accidents was owners of the coaches failed to obey regulations on traffic safety. They already run the coaches without installing route monitoring devices as well as bus badges issued by authorised agencies.
Additionally, poor management of transport firms and authorised agencies were added to the situation, he said.
Phúc told the transport ministry to quickly re-check and add revise current regulations to improve bus and coach safety.
First, the ministry was tasked with adding regulations to force transport firms to equip seat belts for all seats.
A special kind of stamp to verify quality of coach and bus should be issued to help authorised agencies to distinguish coach and buses with other vehicles while they were running on roads, he said.
Second, the ministry was required to amend regulations on permitted speeds and safe distances for vehicles traveling on roads and also review speed limits for vehicles traveling in sloping roads and through residential areas, he added.
Third, the ministry must tighten inspections of transport companies' activities throughout the country, he said.
In the meantime, the Ministry of Public Security was assigned to direct traffic police nation-wide to patrol 24 hours a day to inspect and deal with traffic violations on major national highways and sloping roads with high traffic density, he said.
The National Committee for Traffic Safety and People's Committee of localities, where fatal traffic accidents occurred, were asked to work together to deal with transport firms' violations related to the fatal traffic accidents in the first seven months of this year.
The latest statistics of the committee showed that traffic accidents killed 4,103 people and injured 7,027 others in the first six months of this year.
Prime Minster signs directive on strengthening management of drugs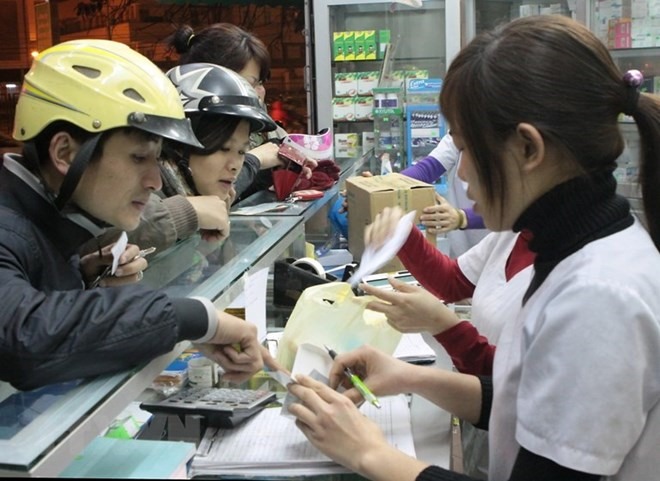 People buy medicines at a drug store on Giải Phóng Road in Hà Nội.
Prime Minister Nguyễn Xuân Phúc has signed a directive strengthening the management of activities related to drug supply and distribution.
In recent years, Việt Nam's medicine supply and distribution system has expanded to meet the demands of the people.
However, the supply of drugs has still shown inadequacies, especially the situation of buying and selling drugs of unknown origin, fake medicines and drugs of poor quality, vietnamplus.vn reported.
The selling and buying of medicines without the doctor's prescription and the use of antibiotic drugs without prescription has led to an alarming of antibiotic resistance.
The main cause of the situation is the ineffective management of drug supply.
The Prime Minister has asked the Ministry of Health to take urgent measures to unify the State management of the drug distribution system to ensure benefits for people.
The ministry is required to create favourable conditions for enterprises and traders in accordance with the law and implement measures to connect medicine supplying establishments nationwide.
The ministry also needs to issue regulations on the electronic medicine prescription in connection with drug-supplying establishments to ensure the control of drug prescriptions and sale of drugs for prescription.
The health ministry needs to regularly update and supply information on drug products, indications, use, origins and prices through the national drug database.
The People's Committees of provinces and cities are required to enhance the management of drug-wholesale and retail establishments to ensure the purchasing of medicines follows doctors' prescriptions.